oshe nilogbe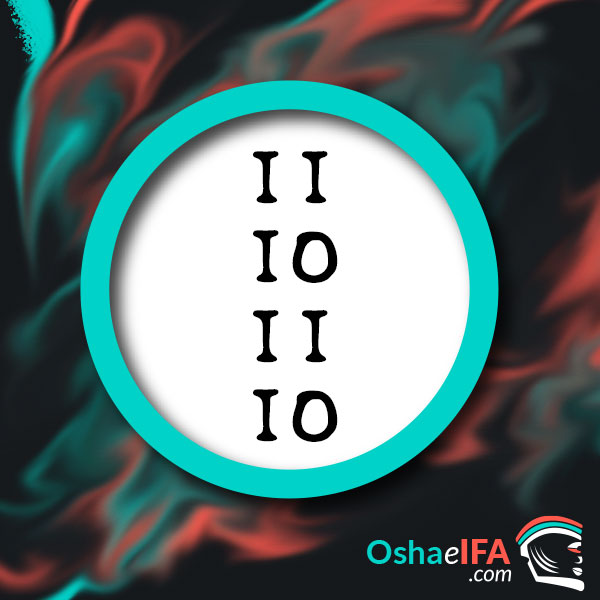 Orunmila said that it is wise to suffer in the beginning and prosper in the end.
What is born in the sign of Ifa Oshe Nilogbe?
Why do you clean your eyes with eggs.
The cult of Oshósi and Aroní.
Amnesia and Catalepsy.
The abnormal ones.
The deaf-mutes.
The spiritual faculty of transportation and clairvoyance.
The snitches and snitches.
The secret of ecstasy of the scalp.
The Ndoki.
The curse of Olófin to the town of Ketú.
The secret of Oshósi (etubón), the gunpowder.
The three arrows of Oshósi and their secret.
What is Oshe Nilogbe talking about?
The flying witches speak.
The son loved his mother very much and then despised her.
They speak the lips as a pleasant part or kisses that are not forgotten.
Who saves the person is Obbatalá
Elegbá cannot be given to anyone.
Shangó is given unyén in the courtyard and left there for 4 days.
It's where the knife tests everything first and cuts anyone.
This is Salta Perico.
Eyelé is given to the belly of the obiní to avoid the birth of an abnormal one.
Elegbá fell into three traps.
In the last quarter, the woman is in crisis because of the man.
A well-made conspiracy is made.
No one is accommodated in their home.
Oshe nilogbe 5-8 notes:
They created the position of Agbombon.
Black beans and organ meats are not eaten.
Aroni is received.
Speak the secret of Jagüey.
The drum was played.
Olofin doubted the fidelity of his wife.
The Eweses are: straw grass and Foxtail.
It may interest you: Ifa Iroso Umbo sign
---
Meaning of the oddun Oshe Nilogbe:
Oshe Nilogbe warns of non-association with evil or evil people. Furthermore, previous sufferings will be replaced with prosperity.
Emotional temptations will result in temporary disturbances.
The person who has this Oddun de Ifá (Oshe Nilogbe) does not trust her or reveal secrets of Ifá. If it is a sign of an Awó, it is malicious, he does not believe much in Orunmila.
It lives many years, so many that they have to take it out in the sun.
The war is with a sorceress, palera or mayombera woman.
God says take care, that I will take care of you. You say that while God does not want, there is no one who does anything to him.
You must take extreme care of Elegbá.
The person has a music inside.
The Babalawo and the Aleyo Oshe Nilogbe can lose their sight.
It speaks of the fixed thought about another person.
It is an Ifá of kings who rule, where Oshún ruled over Obbatalá.
There is talk of the heat or hot spot in the body.
The person falls asleep when they walk in the head and it is because of the secret of the ecstasy of the scalp.
He must bathe with poplar omiero and atiponlá, throwing a fish inside him.
No black hat or black ribbons are worn.
The obiní is unconcerned with her person and the same gives her one thing or another, because she is bored alone, she must marry or unite.
The okuní is talkative and is spread in all aspects of life, that is why they speak ill of him.
The person lives self-conscious and does not have self-control. There is no experience in his life, no pleasant things in his heart.
Oddun from Ifa Oshe Nilogbe in Ire
An oath is made with an eggun to avenge him or finish something he left unfinished.
The oath has not been fulfilled and the eggun is claiming a debt that as long as he does not fulfill it, he will not be there.
For this Ifá "Oshe Nilogbe" some say one thing and others say another.
Don't do favors, get paid for what you do.
Celebrate mass for a family eggun.
The person, out of boredom, has wanted to kill himself.
The money is put into the òsha for whatever one wants to use it later.
There are difficulties in papers and documents.
The man discovers the woman with another and expels her from the house.
For this Ifá, they condemn one in the position they occupy and sentence him for slander.
He receives the blessing of a familiar eggun, who will give him the light of knowledge, good vision and that of his ancestors, which includes the deceased father.
The same person who protects himself is the one who accuses you of being a thief, that is why no one is housed, no favors are done.
Oshe Ogbe sign in Osogbo
The Awó of this Oddun must have complete Oshósi, must give him akukó every three years and touch him Batá.
The mother leaves her daughter abandoned, unborn mangy, and the girl dies, which in the end is carried away
to his sister for Heaven, so that he does not spend more work on Earth.
The husband kills his wife, for the daughter he loses due to the abandonment of the mother.
People, for this Oddun Oshe Nilogbe, tend to be very greedy.
The woman betrays her husband, but because of her high spiritual powers she realizes that the husband knows it and that is why she runs away desperate from the house.
When Ayá is given to Oggún, the knife is painted on both sides of the blade. On the one hand Oshe nilogbe and on the other Oggunda Teturá.
Oshe Nilogbe Sayings:
As long as his Guardian Angel does not abandon him, there is no King to stop him.
In revenge is death.
Neither money remains silent in any pocket, nor does damage go unpunished in this life.
You can always do good to everyone who needs it, wherever you are.
No one knows how much good he has until he loses it.
To sentence a trial, both parties must be heard.
Take care of a friend of the house, leave husband.
Foolishness is bound up in a boy's heart, but the rod of correction will drive him away from it.
The one who withholds the grain, the people will curse, but a blessing will be on the head of the one who sells.
Ifa Code of Ethics of the Odu Oshe Nilogbe:
The secrets of ifa are not revealed.
Oddun Oshe Nilogbe (Ogbe) Tips:
The flying witches speak, the war is with the sorceress, palera or mayombera woman.
The awo of this sign is not taught much or is not taught anything, because he will never believe in ORUNMILA and he will become his enemy.
The only one who lacks food is Oshe Nilogbe, because when they called him to ask what he wanted, he answered "may he never lack food" and since that was what he asked for, that was what olofi granted.
Ifa of kings to those who rule, here oshun ruled obatala, here the drum was played. Here Elewa fell into 3 traps, he saved himself when he fell into the first 2, but when he fell into the 3rd obatala it was who saved him.
When the Babalawo sees this ifa to a client, he should not give him anything of religion, because ifa is already telling him that this person is going to betray him. It marks that when the moon is in the waning quarter, the woman is in crisis with the man, the heat and the heat in the body.
The secret of the ecstasy of the scalp was born. why when the person walks in his head he falls asleep. The leri with large snapper is requested. Then it is filled with the ebbo and thrown into the sea. By this ifa by arun se the person is not blind, he can remain blind. It has to Yoko Osha possibly oshum.
This ifa marks: Prisoner in the maferefun oya family.
---
You may also like: All about the Odu Oshe Meyi
Says Ifa odu Oshe Nilogbe
The person tried to seek advice on the matter of his money losses, but the person from whom he asked for advice is his enemy. You have to be very careful about talking about your issues so that you don't get hurt. The person is surrounded by gossip. He dreamed that he was sowing corn on the river bank and carrying Ifa in his hands.
They are going to invite you to play tickets, accept, because you just have no luck, give thanks to Yemayá, Dress in white. They are going to send for him by deception. Be careful if you lose a garment or receipt you have. They envy you where you work or hang out. Feed your head so that your Guardian Angel will save you. He is very trusting and a friend of his wants to take a secret from him to betray him.
What was lost will appear. You owe money that you will be able to pay it. The damage they want to do to you is going to turn into good. Plan to go to the field with someone else, water corn before going out. Sometimes he goes out and does not want to return home. Your mistress must not shake hands with anyone. You will have many visits. You must feed your Ifá. Beware of theft, sew your pockets.
The obiní has ​​had difficulty in her menstruation. He wants to achieve things on a whim. You want to see a person to express something inside him, which is a very strong feeling. He must put on the Oshá necklaces. Attend the EGUN that accompanies you. It has a shadow behind, must do, to avoid it. Someone who has lodged in his house falls in love with his wife. If you have children, they disrespect the visually impaired and the underprivileged, but they pay dearly for their actions.
Despite being kind, people do not consider him. In your house there may be a revolution and tragedy due to gossip and entanglements, the gunpowder will spread and it will be an event. Take out the one you have in your house and give him all your belongings, because he is obsessed with money and wants to know everything, he is very perverse, everything he is going to do is premeditated. Do not push for things that have no meaning or value.
There is someone who works against you in your marriage, to damage good relationships. Avoid mistreating your young children. Beware of an obini that is following you. He behaves like a blind man and sees nothing. In his house there is a woman to whom he is always doing favors and she does not thank him, she treats him out of interest, when he does not serve her anymore, she will become her enemy. Be careful with a person who is very funny and lives or visits your house, who can bring you problems with the law for a brawl.
Prayer of the Odu Oshe Nilogbe Ifa:
Awo Oshina Adifafun Orunmila Ni Bati Olosordo Olokun Akuelo Saba Da Awo Kayo Awo China Adifafun Orunmila Umbati Ni Osode Olokun. Oshe Bebe Aba Oborigun Guesi Arbaboro Aya Obe She Fun Oba Busuku Kopaderemo Apa Otu Aya Gun Foso Aye Baba Unle Kukunle Lomo Adifafun Alagundo Oba Lofe Ilu Eyo Lobe Diru Yeme Opopopo Parababo Awo Koye Avo China Adifafun Orokonei Wi Güomi Wanami Werebai Wanami Mei Guomi Wanami , Oshe Lobe Otoromu Otolaye Oluobere Iku Kompani Kompani, Arun Kompani Ofo Kompani Eyo Kompani Kompani Ina Kompani Kompani Araye Kompani Onilu.
Works by Oshe Nilogbe 5-8:
Ebbo to solve love affairs Oshe Nilogbe:
Five small fresh fish, sweet, gourd with honey to beg Oshún.
To marry:
A coconut, salted corn, 1 white rooster, clean at the foot of Oggún and give it to him.
Artwork To beat the Oshe Ogbe ndoki:
It will be made ebbó with: 6 small chicks, 6 pieces of yam, 6 sticks of guasima, other ingredients, a lot of money.
You may also like: Treaty of the Ogbe She sign
---
Pataki of the Oshe Nilogbe sign:
When Okete falls in love with Orunmila's wife.
Orunmila had Oketé favored at his house, but when Orunmila went out, he began to fall in love with his wife to the point that she confided in him that she was afraid of cheating on him because Orunmila knows everything and sees everything. One day, Orunmila asked for some herbs and Oketé offered to look for her in his company in the mountains. Orunmila, before leaving, filled the pockets of his pants with corn and was throwing them all the way. Oketé did not notice it, being very worried that Orunmila would get lost in the thick of the mountain, a moment that he would take advantage of to abandon it and thus
have his wife.
When Oketé was sure of his end, he left Orunmila and when he returned home, he began to invite the woman, who declined the invitation. To such an extent that Oketé confessed to him, saying that Orunmila had been lost in the mountains and that he could not return, to which the woman replied that he should leave his invitation for another day. Orunmila returned home and Oketé fled and his wife expelled her from the house.
Oshe Nilogbe Ifa Traditional Nigerian
I KNOW OGB
Alájangbada ríkíraki
A day fún Olúrùbu Ègúsí
Omo ajoká nahin nahin bimo
Òun le báyìí?
Wón ní kó rbo
Wón ni kó se obè ìlasa
kó se ìje
Ko se ìmu
Kó wáá kó àwon èèyàn jo
Kí wón or jeun
Ó be béè
Ní ón bá bèrè Síí bímo
Ìlasa ojó kìíní tí ón sè
Náà ni ón n sè folomo tée dòní
Ó ní Alájangbada ríkírakí
A day fún Olúrùbu Ègúsí
Omo ajoká nahin nahin bimo
Wón ní ó saca káalè kó jàre
Ebo omo ni ko se
Oórùbu Ègúsi gbébo nbè
Ó rubo
Riru ebo
Èèrù àtùkèsù
E wáá bá ni ní jèbútú omo
Jèbútú omo kàá bá ni lésè oba Òrìsà.
Ifá wishes the good fortune of children for this person. Ifá says that life will please him but he must offer sacrifice with Ìlasa soup to his Ifá, invite people to eat and drink.

Alájangbada ríkíraki
He was the one who made divination for Olórùbú Ègúsí
The descendant of Ajoká nahin nahin bímo
He asked, 'Will I be able to have children on earth?'
They advised him to offer sacrifice
They told him to cook okra herb soup
He should even prepare food
Invite people
And invite them to come eat with him
He did as instructed
They started dancing and they were happy
They were praising their Babaláwo
And his Babaláwo praised Ifá
They said it was exactly how their Babaláwo had
Saying
Alájangbada ríkíraki
He was the one who made divination for Olórùbú Ègúsí
The descendant of Ajoká nahin nahin bímo
He was advised to take care of the earth
And offer sacrifice
Olúrùbú Ègúsí heard about the sacrifice
And he did
Come and see us with good fortune as children
One encounters the good fortune of multiple children at the feet of the king of the srìsàs.