Prayer to San Luis Beltrán to heal and remove the evil eye
The Prayer to Saint Luis Beltrán It is a well-known prayer both by Catholics and by practitioners of other spiritual cultures, even esoteric. Its popularity is due to the fact that its invocations are highly effective for the relief of ailments, diseases, witchcraft, spells, curses and above all to cure the evil eye, and other damage caused by envy.
«Glorious Saint Luis Beltrán; protector of the Lord's creatures, doctor of souls. You who have always been concerned about the ailments, sufferings and diseases of others. You recognize everyone as your brothers regardless of their race, their creed, or their color, because your mercy and brotherly love is a grace that accompanies you and with which you exalt the Lord.

Your selfless actions have earned you the recognition of all your devotees, as a healer of so many ills that overwhelm beings incarnated on this physical plane.

That is why, loaded with faith, I implore you through my prayer to take possession of the affairs of my life so that all the evil that has befallen me may be revoked.

Oh Saint Luis Beltran! Blessed are you in the name of the Holy Trinity since you walked on this Earth.

The Father, the Son, the Holy Spirit are with you, dwell in you, from the beginning of your days to eternity. Protected are your good deeds in the Virgin Mary, symbol of purity and holiness. I implore then, clinging to your recognized goodness and mercy, that you free me from any dark spirit of low vibration, demonic and malevolent that may have settled on my spirituality.

Incomparable missionary, preacher of the gospel, and example of the word of God in his own actions, I beg you to purify me from all evil.

Blessed Saint Luis Beltrán, become the shield that protects me from all envy, with which the malicious cannot see me. Neutralize the dark energies produced by the evil eye, and do not allow the imposition of those low entities to cause me backwardness, death or illness.

Emanate your healing vibrations on my physical and spiritual body, do not allow damage, accident, injury, or illness to cover me. Strengthen my health, that of my family and that of my benefactors.

Dear Saint Luis Beltrán, saint of my devotion, listen to me. Do not allow my enemies to achieve their machinations on me, that under no circumstances can they harm me and be defeated, just as you defeated all those beasts that crossed your path.

San Luis Beltrán in your hands I place my health and all my affairs, so that by your side I can fight any vicissitude that may arise. Thank you for your infinite compassion, accompany me today and always. Amen".
Who is San Luis Beltrán?
Luis Beltran was born in Valencia, Spain. He was a Dominican who did missionary work in America at the time of colonization. His story tells that he landed in Cartagena de Indias and worked in the area of ​​Bajo Magdalena. By 1568 he was appointed Prior of the convent of Santo Domingo, in Santa Fe de Bogotá.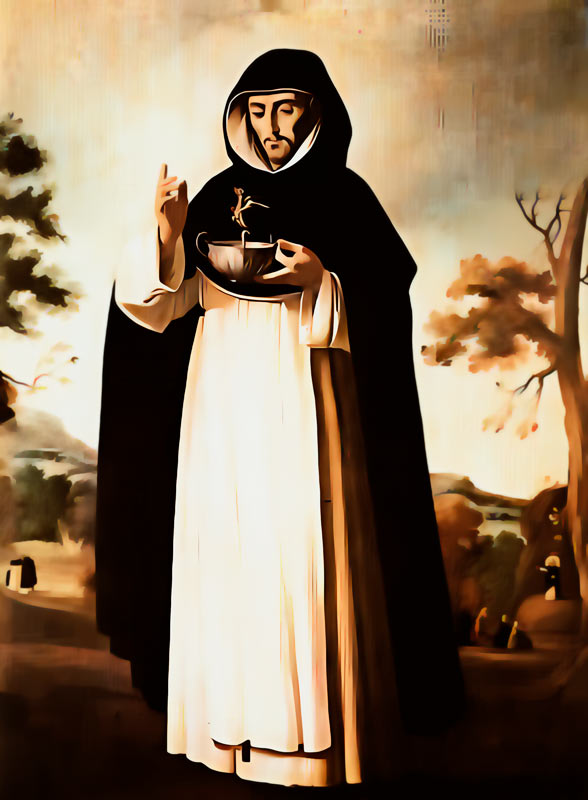 It is said that he was a strong opponent of the cruelty, ambition and injustices that the royal officials unscrupulously carried out during the occupation and conquest of those lands. He openly disagreed with the oppression of the indigenous people, becoming an unpleasant figure for the leaders of the time.
But changing that was very difficult, since the crown was in control, and its officials acted with full authority regardless of the consequences of their actions, therefore, their missionary work was often hampered. After so much fighting, he decides to go to Europe after many conflicts with the authorities, where it is even believed that, due to his multiple confrontations with the conquerors, they tried to assassinate him repeatedly. Pope Paul V beatified him in 1608 and Alexander VII declared him Patron of the New Kingdom of Granada, which is currently known as: Colombia, Venezuela, Ecuador and Panama.
Legend of San Luis Beltrán
There is no doubt that the life of Luis Beltrán generated a great impact in his time, maintaining that admiration until today, since he enjoys a large number of devotees from different parts of the world and from different religions or spiritual practices.
His legend indicates that he had special gifts, some claim that he was a saint with magical powers, which allowed him to perform prodigious acts. Among his stories they say that on several occasions he put an end to droughts just by reciting a prayer; once, just by extending a blessing to a tree he caused it to bear fruit immediately; another story tells that he walked on the waters of the Ciénaga de Manzanillo.
But that does not end there, it is also said that at a time when he wanted to make a royal official in Usiacurí understand that all his profits, including his food, were the product of the sacrifice of the blood of the exploited indigenous people, he squeezed the prepared arepas for that man's food, and a stream of blood gushed from them that stained the table that was served.
Actions like these made him dislike the colonizers, who tried to poison him with a highly lethal concoction, but Beltrán began to vomit intensely until a snake came out of his mouth, after that, he regained his health; on another occasion a slaver tried to kill him by shooting him, but when he pulled the trigger his arquebus turned into a crucifix. In fact, this miracle is usually represented in many graphics in his honor.
Not satisfied with all of the above, it is said that Beltrán on more than one occasion neutralized attacks by beasts, extinguished fires and healed the sick by wielding his rosary. He had a powerful gift of communication, he was easily understood in other languages, for example, he could preach in Spanish, but the Indians understood him in his own language.
---
What is asked of San Luis Beltrán?
The prayers of Saint Luis Beltrán are usually used to request his help in situations such as:
Seek the healing of all kinds of ailments, natural or spiritual diseases.
Solve conflicts caused by envy.
Revoke all kinds of evils.
Transmute negative spirits and low light entities lodged in a person.
To cure the evil eye.
Solve conflicts where injustices are committed.
Develop better communication.
Avoid being harmed by our enemies.
To have abundance and not lack food.
---
Prayer to San Luis Beltrán to ensalmar
This prayer to heal is very powerful and effective. It is one of the most popular invocations to Luis Beltrán. It is possible to accompany it with a branch of some bitter herb and offal, such as rue, a glass of water and a white candle, which will be passed in the form of a cross over the body of the person you want to heal, every time you the sentence indicates it with the symbol «+».
«Creature of God, I conjure and bless you in the name of the most holy Trinity Father, + Son + and Holy Spirit + three persons and a true essence and of the Virgin Mary Our Lady Conceived without stain of original sin. Virgin before childbirth + in childbirth + and after childbirth + and for the glorious Saint Gertrude your dear and gifted wife, eleven thousand Virgins, Lord Saint Joseph, Saint Roque and Saint Sebastian and for all the Saints and Saints of your Celestial Court .

For your most glorious incarnation + most glorious Birth + Most Holy Passion + most glorious Resurrection + Ascension: for such high and Most Holy mysteries that I believe and with truth, I beg your divine Majesty, putting your Most Holy Mother, our lawyer, as intercessor, free, heal this afflicted creature of this disease, evil eye, pain, accident and fever and any other damage, injury or disease.

Amen Jesus.

Not looking at the unworthy person who prefers such sacrosanct mysteries with such good faith I beg you Lord, for your honor and devotion of those present, serve yourself by your mercy and mercy to heal and rid of this wound, sore, pain, tumor, disease , removing him from this part and place. And do not allow your divine majesty, accident, corruption, or damage befall him, giving him health so that with it he serves you and fulfills your most holy will.

Amen Jesus +

I heal and praise you, Jesus Christ Our Redeemer Lord heal you, bless you and do all his divine will.

Amen Jesus. Consumatum Est + Consumatum Est +. Amen Jesus».
---
It may interest you: Prayer to the Holy Death
---
Prayer to Saint Luis Beltrán for the evil eye
The evil eye It is known as a spiritual phenomenon in which a person has the ability to cause harm, bad luck, misfortune, illness and even death through their gaze. Some produce this effect with all their intention, while others do it unwillingly, it just comes naturally. For its part, the affected person is said to have been "glanced, that they cast the evil eye, or the eye on it", which is why they need spiritual help to get rid of that situation.
The procedure to remove the evil eye is usually the use of the appropriate prayers, in this case, the prayers of San Luis Beltrán are widely accepted because they are very powerful and effective. They are usually accompanied by elements such as: three basil segments (each of a different type), a glass of water, a lit candle and a crucifix.
As in the previous prayer when this prayer is prayed and the "+" symbol appears, you must make the sign of the cross on the person's body or on the area that you wish to improve.
May the blessing of the Holy Trinity be with me and strengthen me today and always. I implore the permission of God the Father, Son and Holy Spirit, to invoke the help of the saints and saints of the heavenly court, especially Saint Luis Beltrán, expert in revoking the disease and spiritual damage caused by evil entities.
On these three segments of grass I implore your presence, emanate here your sanction fluid. Saint Luis Beltrán, it is you who heal all kinds of damage always with the blessing of God.
May your spiritual fluid merge with these elements of nature, making the most of their healing properties, attracting health, strength, vigor, breath, encouragement and energy, charged with divine influence from now on, in at all times, and to eternity, for ever and ever.
Creature of Almighty God, in the name of the Most Holy I heal you, enchant you, bless you, sanctify you and protect you under the protection of the Father + the Son + and the Holy Spirit +. I cover you, surround you, and seal you with the blood of Our Lord Jesus Christ and the power of the angels and archangels of the heavenly court.
I clothe you with the sacred mantle of Our Lady, the Blessed Virgin Mary +, an example of purity and peace.
I purify you in the name of the saints and saints of the heavenly court, Saint Anne, Saint Joseph, and especially in the name of Saint Luis Beltrán who wins all the spiritual battles that are put before him, because his spirit is health, it is tranquility, it is rest and happiness.
Oh glorious Saint Luis Beltrán! You who looked at how sick, felt mercy and healed his body, with just the use of your rosary blessed by the Blessed Mother, our protector, I implore you to put your miraculous hand on this creature of God +, so that it may be healed from all the evil that has been imposed on him in a natural or false way.
Revokes all evil eyes, discomfort, spell, sore, accident, disease, and any other damage or injury. By your powerful intercession she has been healed, and by the grace of Our Lord Jesus + this creature has been blessed who with deep faith and devotion cries out for her recovery.
In the name of God I congratulate you + in the name of the Son I protect you + and in the name of the Holy Spirit I lift you up + freeing you through the intervention of Saint Luis Beltrán from all evil or harm in this world, or in the spiritual world. Praying that today and always be wrapped in the spiritual mantle of good health, being an example of the glory of God. Amen".
---
Prayer of Saint Luis Beltrán against all evil
God the Redeemer, Creator of Heaven and Earth. Lord Jesus Christ, God the Son, sacrifice of love. Holy Spirit, fervent flame of the essence of God. Holy Trinity, I cry out your blessing in this now and at this moment in which I invoke the presence of Saint Luis Beltrán, in the company of all the saints of heaven, so that they impregnate me with his redeeming and healing light.
I ask you, glorious Saint Luis Beltrán, to take possession of my affairs, fill me with your wisdom to lead me along the most appropriate paths for my success and evolution. Do not allow me to fall into errors due to recklessness, incompetence or ignorance. Make me prudent, wise, restrained and opportune in my way of reacting.
Remove any feeling of evil from my being, to serve God in the best way, and to be able to aspire to eternal grace at the time that corresponds to me to return to the feet of the creator.
Take care of me San Luis Beltrán, of all my opponents, do not allow the bad intentions of my enemies, known or unknown, to triumph over me. Do not let him suffer deception, cheating, betrayal, or falsehood. Keep me away from the false and the disloyal.
Transmutes from my being any type of curse of this world or the other, breaks any spell, witchcraft, black magic, evil eye, sending, mooring, separation, curses, physical illness, spiritual illness, vice or lack of control. May all conflicts, envy, gossip, entanglements, defamation, jealousy and arrogance be far from me.
Powerful Saint Luis Beltrán, banish all evil from my life, throw it into the fire of hell, so that it can never harm me, nor me, nor any other being.
May the blood of our Lord Jesus Christ cover me, valid today and always as a symbol of salvation, heal my soul, you sacrificed yourself for all our sins. Deliver us from any curse and from any discomfort, that the energy of the beings of darkness cannot inhabit me under any circumstances. Revoked has been from this very moment all evil. May the blessing of San Luis Beltrán and Almighty God be with us at all times. Amen".
---
You can read: Prayer to San Cipriano to ask for protection
---
Prayer to remove ancestral curses with Saint Luis Beltrán
«Lord, God of mercy, beloved Father, allow your servant Saint Luis Beltrán to assist me in the prayer that I raise in your name.
Oh Saint Luis Beltran! I come before you with an open heart to ask you to help me heal and revoke my spiritual illnesses and the curses that I may be dragging from this life, from previous ones and from my lineage.
Intercede before God so that my sins are forgiven, as well as the sins of all my relatives who are earthly or are in the spiritual world waiting for redemption in God.
In my name, and in the name of my ancestors, I beg your help Saint Luis Beltrán. He revokes with your powerful virtues all the trap and authority that the low spirits, the entities of low vibration and the demons in my bloodline have taken.
Right now, in the name of my faith, and in the company of Saint Luis Beltrán, I remove, destroy and undo all authority and right that has been given to Satan in any of our generations, freeing us from any curse that has been transmitted from generation to generation. .
I purify and enchant my lineage with the strength and power of Saint Luis Beltrán in the name of Jesus.
Oh Lord! Merciful God, remove so much filth from us, free our offspring. Saint Luis Beltrán, pleads for the forgiveness and redemption of my lineage. May we be worthy of the salvation emanated from the blood of Our Lord Jesus Christ.
Glorious Saint Luis Beltrán, extend your hand to free me, my ancestors, and future generations from all those pestilences, curses, spells, witchcraft, black magic, moon spells, sins, and damage that have marked us from generation to generation. generation.
From this moment and from this holy hour, I decree, sentence and pact with my God, the true God who, thanks to the intervention and healing of Saint Luis Beltrán, all inherited curses have been left without power, without rights, without influence over me. life, and that of my generation.
Every hereditary disease curse is now gone, destroyed, it will never thrive again. In the power of the Holy Spirit I protect myself, with his eternal flame I enchant us, from now on we are a lineage blessed by God and the Saints. We will not give place to any curse, our generation is healthy, consecrated, blessed and protected by our Lord Jesus Christ.
Come into our house Almighty God, which has been illuminated by the intervention of Saint Luis Beltrán, and do not allow anything dark to dwell in us again.
We have been healed from all physical and spiritual diseases, because God reigns in our body, mind, soul and heart. Fill our lives with your presence, under the guidance of the patron saint of my family and my home, San Luis Beltrán. At your feet I prostrate myself, full of gratitude and humility, because the bad has been broken and will never have a place in us. Stay with me and within me, Holy God. Thank you for answering my call. I thank you for this liberation. Thank you for allowing San Luis Beltrán to assist me as usual. It has been agreed, it has been sealed, so be it, so it is, so it will be. Amen".
---