Prayer to Santa Barbara
Prayer to Santa Barbara It is widely used by its devotees to invoke the powerful help of this Catholic martyr, whose mercy is demonstrated through her history and the miracles attributed to her. Therefore, praying her prayer can be very opportune to solve certain problems. that afflict us
Oh blessed Santa Barbara! Fervent virgin, incorrupt woman in body and soul, delivered on the path of faith, God accompanies you with her light, illuminating your energy on the path of good.

Lend me your winning sword to be able to free me from the wicked, the unjust, the envious, the wiles of the devil and all those who serve evil.

Do not allow the rays of my opponents to attack me. May your influence be my armor against the raging fire of the machinations that rise behind my back and be the shield that leads me to the victory of my goals.

Nourish me with the wine that fills your cup, so that my strength is renewed, and that my body and spirit are fed and prepared for disputes and combat.

Oh Holy Barbara! Receive my offerings with joy, like apples and daisies that please you so much, then, humble, I bring you my prayer as a sign of my devotion to your power and sweetness.

I beg you to never abandon me, because in your shadow I take refuge, as a support for my faith, my life, my loved ones, and my interests, to which I will reach triumphant as you reached the kingdom of heaven. for never abandoning the faith you had through Our Lord Jesus Christ.

Oh blessed Santa Barbara! You who never left God's side, now walk by my side to be able to overcome the vicissitudes of this Earth that can sometimes be very bitter.

Before you I prostrate myself as a humble servant, because following your actions is following the path of the Creator. You, sublime guardian of the children of the Lord, accompany us with mercy, bless us with such generous mercy, so that helped by your merciful hand we can rise from any suffering.

To you, blessed Santa Barbara, I implore you to cover me from any evil that stalks me, confuses and removes from my path everyone who could harm me, it is to you that I entrust my struggles. I call out to you with faith, hoping that you will teach me with your gifts the best way to get out of the worries that overwhelm me in this life.

Do not allow me to suffer any betrayal, defend me from the attacks of my enemies, that evil and hatred do not harm me, nor can they stay inside my heart, so that being a good child of God I can enjoy the blessing of the Most High.

Oh blessed holy virgin! Self-sacrificing and follower of the word of God, you who knew the power of his healing word, went without fear to the hill where your earthly life was unjustly interrupted, but with dignity you accepted your destiny, since no threat from men made you lose the faith that led you to the discovery of the truth. Imbue me with that strength to face the wicked and help me to triumph over their machinations.

Save me from all evil Saint Barbara, so that peace and tranquility be with me and my loved ones in this life and in eternal life together with the Creator.

Amen, so be it".
How to pray to Santa Barbara?
Santa Barbara is prayed to like all the saints, with great respect and faith. Her devotees also often offer her multiple treats such as: red roses, red wine, red candles, apples, cinnamon, among others.
Are your prayers effective?
Saint Barbara is considered to be a very miraculous saint. Among the miracles attributed to her, one that occurred on May 27, 1701 in La Moncada stands out. It is said that a terrible rain covered the whole place and the locals feared for the loss of their crops, so the Catholic farmers went to the church to pray for divine help. Meanwhile, the rector took the relic of Santa Barbara and left the temple, blessing the entire parish, and the storm continued on its way without wreaking havoc in the place, unlike the nearby towns that were seriously affected by that gale.
Just like this, there are many testimonies and stories that for centuries have attributed great feats to the intervention of Santa Barbara when she was cried out by believers, therefore, praying in her name is always very useful for those most in need.
What is asked of Santa Bárbara Bendita in her prayers?
The devotees of Santa Bárbara usually make requests of any nature because it is attributed the ability to influence a wide variety of situations, however, the most common requests that are made:
This saint is the patron saint of artillery and fire-related professions, which is why she is entrusted with the protection of firefighters, miners, and electricians.
Your help is requested to improve health problems, especially in cases related to burns.
Your intervention is invoked in the face of the inclemency of natural phenomena, heavy rains, electrical storms, and lightning.
Faced with situations of injustice and abuse of authority.
For protection from stalked enemies.
Your intervention can be very timely in the face of family and sentimental problems.
---
Short sentence
«Blessed Saint Barbara, may your light illuminate me at this hour and this moment. She covers my home, my family and my person with your cape. Protect me with your sword from my enemies. Feed me with your cup and your bread, so that I do not have to go through any kind of delay or misery in this life. Do not allow in the gale of this earthly world the storms of problems and setbacks to defeat me in any way. Join me today and always with your blessing. Amen".
---
You can read: Prayer to Shango
---
Prayer to Santa Barbara for love
Oh glorious Santa Barbara! You who know the perfection of the purest love, because you were faithful to the love of Christ. You learned to feel his teachings from the soul until you became a virtuous disciple of Jesus. Firm in your faith, you rose above all the tests to which you were subjected, accepting martyrdom as the step that would take you to the kingdom of heaven to enjoy the company of the Creator.

That is why, being a great devotee of yours, today I dare to confess to you the agony that overwhelms me, because I trust that your wisdom will help me overcome all my adversities.

Oh holy blessed! You were filled with the power and grace of God, because you advocate with diligence and mercy for those who suffer and pray. You, who, despite not having participated in the affairs of love on this Earth, know very well what an afflicted heart suffers, that is why you intercede before the heavenly throne in search of peace for your devotees.

Today, with a lot of faith, I surrender my cause at your feet, so that your protection can cover my home and my sentimental relationship with (say the name of the loved one), and away be the problems, worries, evil, and everything that prevent us from being happy. May your blessed sword cut off everything that could interfere or harm our union, so that happy and dedicated we can live together.

I beg you to hear my blessed holy request, and that we can enjoy your merciful intervention, becoming the shield that protects our marital stability, thus making our beautiful love story a reality, where respect, loyalty, fidelity reign. and above all things, faith in God.

Oh Saint Barbara! I am confident in your good offices, therefore, in you I place all my hope. In your miraculous hands I surrender my heart, because you are worthy of my affection and devotion. May God bless you today and forever. So be it, so it is, so it will be. Amen".
---
Prayer to Santa Barbara for money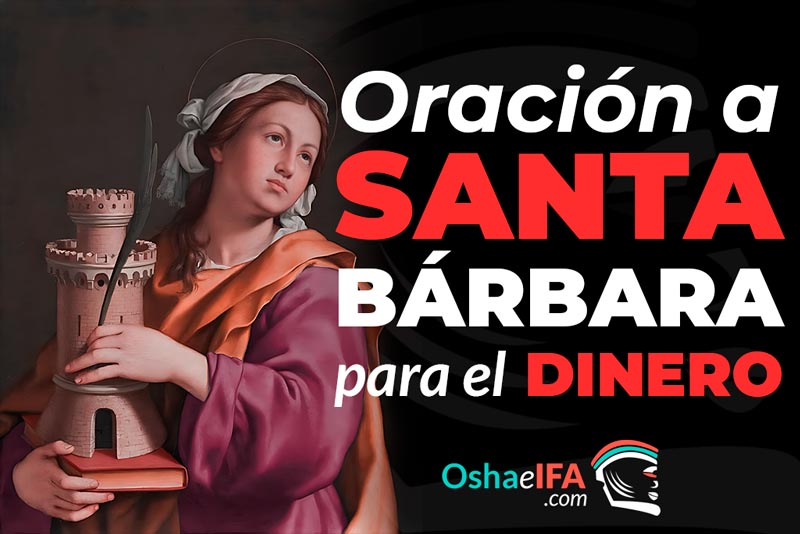 Oh mighty Santa Barbara! You who are an example of struggle and strength. I call on you in the name of God to overcome this circumstance that afflicts me today.

Today I beg your invaluable intercession before God Our Lord to find the best path that will lead me out of the vicissitudes that overwhelm me. I must confess that I have not been able to achieve the material stability that I need on this Earth to be able to live serenely. On the contrary, misery haunts me and although I have tried to reach the solution to the test I am facing today by my own means, it is beyond me.

Oh blessed saint! At your feet I fervently pray that my plea be heard, and that the lights of your beneficent rays illuminate a path that will make me achieve the solution that I so long for (make your request).

Oh my God! You who filled Santa Barbara with such great strength that allowed her to endure the most horrible outrages and torments as a sign of her goodness and fidelity towards you, although my cause does not compare with her greatness, allow her help to fill my life with the bliss of tranquility.

Blessed Santa Barbara, you who grow up in the face of storms, fires, and the calamities of this world, I beg you to take my cause as yours, so that my prayers may be heard, and my wishes materialized in the name of God. I will be grateful to you forever, because I am sure that soon your help will bless me from the highest heaven with your merciful hand.

Amen".
---
You can read: Prayer to Saint Rita
---
Prayer to calm storms, rain and lightning
"Oh Blessed Saint Barbara! You well know that everything that exists on this Earth is by the work and grace of our Creator, the God of heaven, to whom you gave your life filled with an unwavering faith.

Today, we beg your devotees that our prayer be presented by your merciful intervention before your divine throne. So that our need being heard, we can reach the help of Our Lord Jesus Christ, and heaven and Earth dominated, the storms that overwhelm and affect us today may be calmed.

Blessed Santa Barbara, we beg you not to allow the ravages of nature to harm us, because the winds, the inclement rains, and the lightning that falls from the heavens right now are a threat to our lives and everything we have built.

Help us so that, just as they have come to refresh the earth, they can continue on their way, reaching places where they cannot affect any living being, and reducing the momentum that could be destructive.

We acknowledge before you and before Our Lord that we are simple sinners, but we want to follow God's ways to serve the good of his cause, therefore, protected by the faith that we have in his love, we cry out for the clemency of calm keep us away from physical and spiritual storms.

Oh Holy Barbara! Save us from the fire and the rain, do not forsake us, protect us and protect everyone who is in a state of need as we are now. Amen, so be it".
Prayer to Santa Barbara against enemies
"Oh Blessed Santa Barbara! Bearer of the cape and sword bestowed from the hands of the Lord, protector you are of all the children of creation, we pray that your immense power accompanies us.

Make me victorious with your sword, cut off all injustice, conspiracy, wickedness, defamation and insult that can rise against me.

Protect me in your tower of faith, to dwell within the teachings of God. May the great power that was granted to you by the righteous lightning bring peace and victory over my opponents, and for your greater glory, defeat the fire inspired by the devil and all those who dedicate their lives to its service, causing harm to others. believers of the truth of the word of the Lord.

Allow me to raise the chalice of triumph over the infamous and malicious, because your protection will not allow it to be defeated under any circumstances.

Take care of my back and my sides, that betrayal cannot reach me, and that covered by your cloak of victory I can maintain peace, calm, health, evolution and tranquility in my life and my affairs (make request).

May the grace of God always accompany you blessed saint, we are always grateful to your devotees on this Earth.

Amen".
---
You can also read: