The Prayer to YEMAYA more powerful Prosperity and open the roads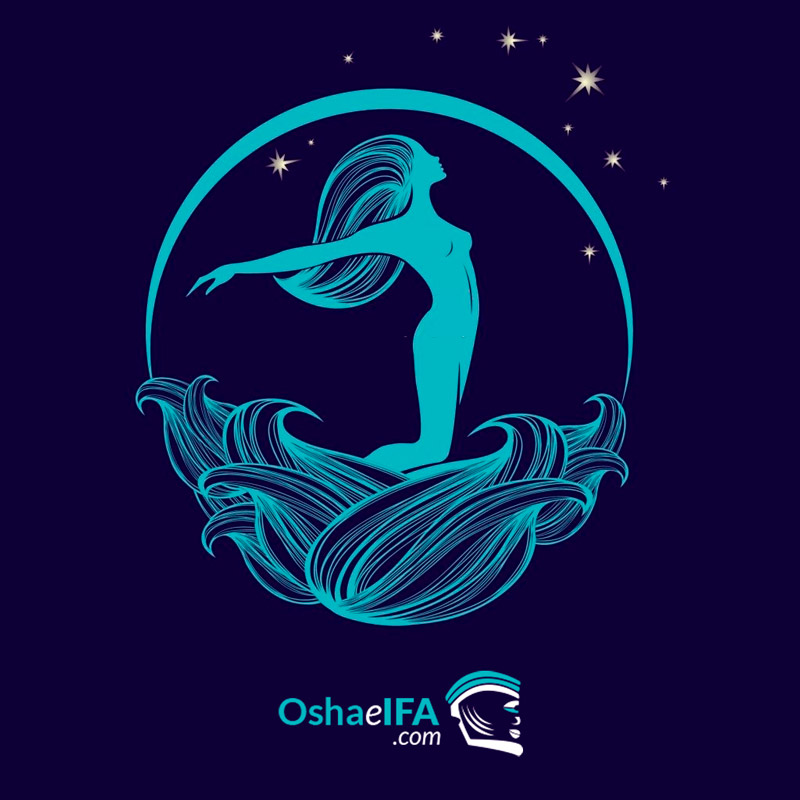 Yemaya, is the Orisha mother of the World and is one of the fundamental deities in the Yoruba or Santeria Religion. Therefore, it is the mother of the world, the mother of all according to the believers, aleyos, santeros and Babalawos, that is why it is essential to entrust yourself to this deity, place your adimu on it and pray a Prayer or Orikis.
How to invoke Yemaya?
For all religious believers of Afro-descendant religions, communication with the deities is important, in the case of Yemaya we must address her with great respect, faith and assurance that this great Orisha will hear our prayers.
Before we begin to pray we must light Itana Meji fun fun (two white candles), we kneel down and begin to pray this Invocation Prayer.
Yemaya hear me yémaya listen to me. I, your son (a) (Full name), invoke you to make a presence in my life, here, now and always. Be the one to handle every situation and concern that comes my way. Pour your nobility and great love on my soul. Every time I say yemaya, yemaya, that your greatness is noticed, that I can feel your firmness and my problems disappear. May your help and that of the Orishas take control of my life. Ashé
Prayer to Yemaya to thank
If you feel in debt and want thank Yemaya (Orisha del Mar) for the favors and blessings received, you can say this prayer:
"Oh my Yemaya, goddess of the sea, owner and mother of all. I thank you for what I have achieved for you, for you my life flows like the sea breeze, for you my steps will walk changing and safe like the waves of the sea. You are a mother and you will be a mother, thank you for taking care of me, thank you for giving me ashé, today, tomorrow and always. When I go to the beach, you calm me down and when I listen to the wind and the waves, I feel your presence and the answer to my pain and need ".
Prayer to yemayá to ask for protection
Whether or not you are the son of Yemayá, you like or feel an affinity for this orisha, it is very normal because she is the mother of the earth and of what inhabits it. We take you back to pronounce this prayer before leaving your house:
"Yemaya Listen to me, you who are reigning in the sea, listen to my prayer and request, beautiful and wise orisha. Give me protection, give me company, today on this day, I ask you, my mother, not to abandon me. Protect me in every situation, street or alley, when I say your name, roar like a lion and attack like a shark because you are from the sea. Keep enemies away from me. Make me come and go home with goodness (ilé). Ashé "
Prayer to yemaya to get pregnant:
The nobility and maternal instinct of this Orisha, It is so strong that by placing an adimu, flowers or a candle and praying this Prayer accompanied by much, much faith, you will achieve the dream of being a mother. Just have faith.
"Oh my god YemayaHear my pleas, hear my lament, see how my lips move to implore you to touch my feminine health. You who are a mother, you who have many children, mother of the universe. Help me, I want you to touch my belly, my uterus, my ovaries and sow the fruit of love, put your seed and make it bloom. Mother, I want to be too. Oh Yenya, my mother, how good it would be to see a future child grow up that will also be yours. All my hope is in you. Ashé ".
Prayer to Yemayá for prosperity and to open the roads:
"Yemaya, you will never want to see your children going through moments of torment or anguish, so if you feel a desire to be a prosperous person and you want to see changes and new paths, do not hesitate to ask the mother orisha.
Mother, you who have the power to walk, live and dominate the waters of salt, allow me to live and enjoy prosperity and abundance, open my paths to good and close the dark paths that do not lead to anything or any safe place. With the help of Elegua, the owner and lord of the roads, open the doors of success for my life, give me prosperity and help me to succeed. Give me your blessing ".
Prayer to Yemaya for money
Yenya's wealth will always be shared with her children, especially those who have the privilege of having her Crown. Maferefun Yemayá !!!
"Oh my guardian angel, oh my Yemaya !, help me with your divine grace, you are rich in the sea, you have great fortune in the ocean, your fortune is inexhaustible. Help me, get me out of this misery, I don't want to suffer anymore, reward my life with the Ire of wealth, with money and much happiness. May money and abundance never fail again in my life. Ashé to Iba Eshu".
Prayer to Yemayá to improve health
"Oh mother with the help that you can give me, with the great love, respect and admiration that I feel for you. You are the owner of my head, you are the absolute owner of my body, it strengthens my health and cleanses my being. May these attentions and offerings that I come to put at the foot of your throne today, move you and please you and help me, my mother, to get out of this disease, I ask nothing more of you than Ire Ariku. I know you can do it on me. Ashé ".
It is recommended to clean the body with pork, then fry it and dress it with cane molasses, place it in Yemaya with two candles.
Prayer of the children of Yemaya to ask for protection
Who more than a mother to protect her children, Yemaya will always seek to protect her Omo from any adversity or curse.
"Blessed are you mother and queen of the seas, protect me from all envy, from all evildoers and from all shadow of darkness, may the waters of the sea free me and drown all those who seek to disgrace and overshadow the majestic brightness that you give me. Never stop seeing for me, mother of the sea, mother of mine, mother of all. So be it".
Prayer to Yemaya to attract good things
Nothing is impossible for any Orisha, less for Yemayá, who is a head saint, he is within the 5 main deities of Santeria or Osha-Ifa Rule. His character is changeable like the waves of the sea, but his love is as deep as the ocean itself and the force of the sea brings and carries things.
"Beautiful mother, make all good things come to me with the force of the sea, job offers, money, love, good energy and all the ashé that your mother wants to give me. As the current and the waves of the sea attract shells, snails and treasures to the shore sand, make me attract a good streak and all the Ire and that take root in my house and in my life. So be it".
Learn more prayers to the Orishas: