Shango: The Orisha King of Fire and Lightning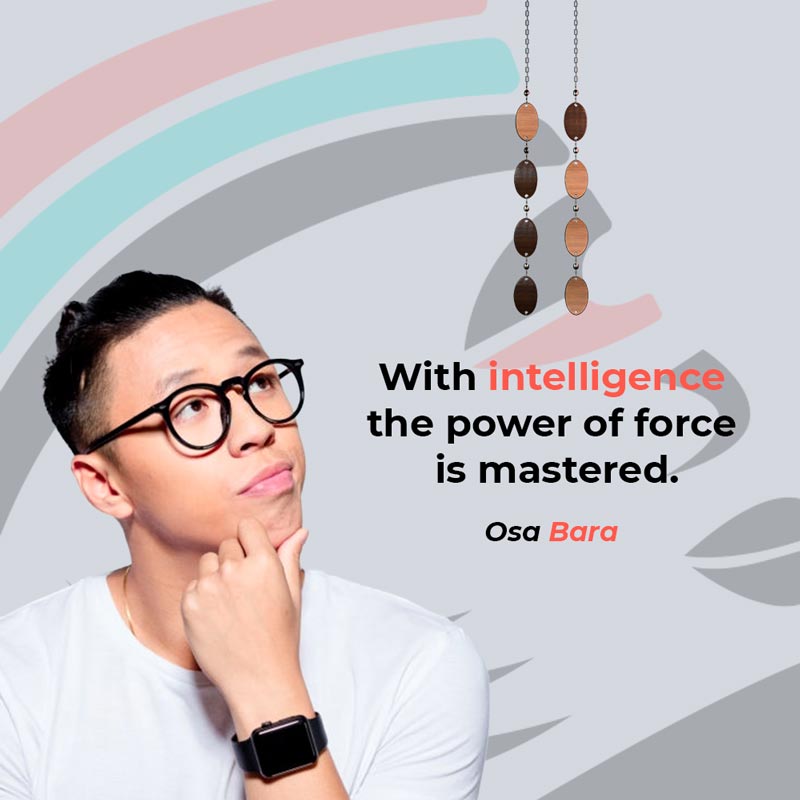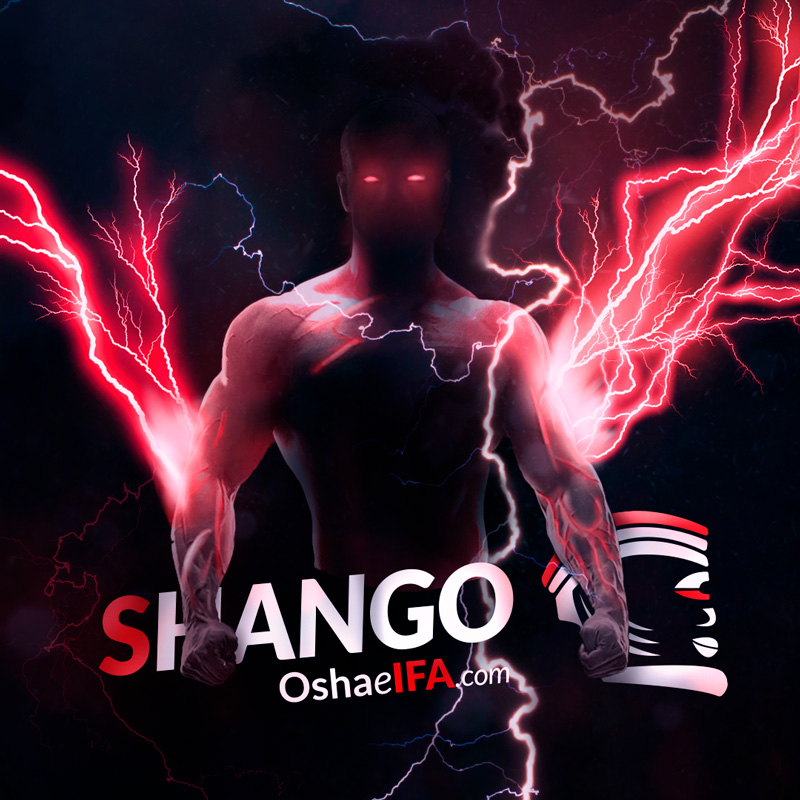 Shango or Chango is an Orisha of the Yoruba or Santeria religion, is the god of thunder, fire and lightning. He was the one who taught the battle formations, a great military strategist who brought with him the cavalry as a combat troop and thus was able to increase the power of his army, conquering a large part of the territory and building an empire.
His popularity generated by his victories in different wars was so great that he was beatified and today he is asked and an offering is placed, asking him to be the one to help us solve and win any war that comes our way.
Who is Shango?
Shango was the fourth king of OyoIt could be said that it is the most popular Orisha of the Yoruba pantheon. It is said that he was not born, he fell to the earth wrapped in fire, generating a great roar, hence his association with thunder. Represents virility, physical perfection, masculinity, warfare, and male fertility.
In a story of the Odu of Ifa Ogbe Bara which helps us to identify Shango as a Righteous Orisha:
Ogbe Obara made Ifá divination for Chango, who was going through many adversities in heaven. Ogbe bara was also very poor. At the end of the ceremony, he invited him to come to his house, but Shango did not accept.
He from Heaven observed that the world was very dirty and full of evil, for which he swore to punish all the evildoers of the Earth.
When the "Shango" was getting ready for battle, a tornado shook the roofs of many houses on Earth including that of Ogbe Bara, although he was not in it and it was his wife who was there.
As the trees fell and all kinds of buildings collapsed, I hear a song that said: Arira, arira mo juare, Ule Ifá dowo reo, arima mo-ju-are.
Shango, upon hearing, understood that one of the houses that was being affected was that of Ogbe Bara, who was his friend and benefactor, for which he suspended the attack and returned to Heaven.
---
Shango Characteristics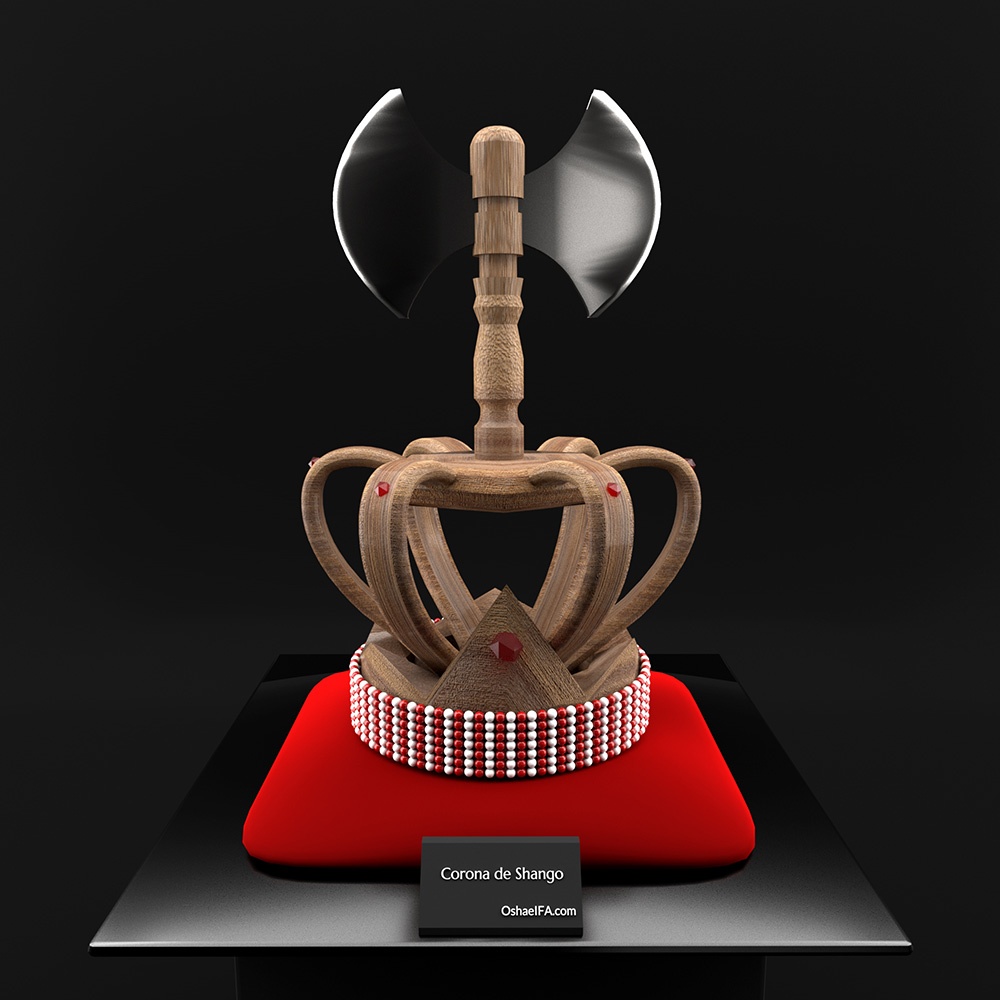 Personality
In the religious tradition it is said that this Orisha is violent, aggressive, righteous, does not like lies. They say it punishes bandits and liars. He likes dancing and drums. In popular culture, especially in Latin America, it is said that he is a womanizer, quarrelsome and praiseworthy.
He has a passion for music, both for playing the bata drums and for dancing. He is very wise, fair and courageous. He asks his children to be honest and act under ethical concepts, avoiding violence and impulsiveness. Ifa Oyekun Ogunda's odu says that he is an excellent dancer.
The colors of the Orisha Shango are red and white.
---
You Might Also: All about the Orisha Elegua, The owner of the roads
Chango Day
Shango's day is very special, for years it has become a date of celebration in many Latin American countries. By tradition the festivities to this Orisha are celebrated every four (4) of December, many times their festivals are celebrated in conjunction with the Catholic deity Santa Barbara. We have all heard that the December 4 is Santa Barbara and Shango Day.
That day it is customary to put some adimu or offering, a throne or altar is set up where fruits, flowers and the different foods that this saint likes are placed. It is also customary to play the traditional Bata or ilu Aña drum.
Although to attend to the god of fire it is not necessary to wait for December to arrive, his children and anyone who has received his foundation can attend him or entertain him at any time, but by tradition that our ancestors left us, it is customary to do it on Saturdays since this is the day of the week that belongs to you.
But do not hesitate to approach Shango any day you need him, he will always be willing to listen to you.
Number
This Orisha is represented with the number six, which are the amount of otanes that its foundation has. This number in Osha and Ifa culture represents barter, trade and negotiation.
Shango history
Among the Yoruba there are several legends and stories about Shango, but all agree that he was a human who reigned in Oyo, many versions associate him with the solar deity.
There is a legend that says that the Orisha "Shango" was a child and confronted the King of the people telling him to leave the throne, that he was the rightful king. This King called all the inhabitants of the town and asked who the father of the child was, no one knew the child and less the father. Then the king asked his servants to kill him by drowning him in the river, they did so; but when they returned to the palace, the boy had already reappeared in front of the king. He said: "How is it possible? These men drowned him and now he has returned ".
I order them to catch him, but the Shango escaped and began to jump and run everywhere, he saw a large hole and entered it, he ran into the forest and found a huge tree, he jumped on it and suddenly appeared hanging from one of his branches with a rope; was dead.
The women returned and reported that the child had hanged himself. The king ordered a great sacrifice to be made. He bought a cow, a lamb, a rooster, a hen, oil, slugs, butter, a tortoise, a wild goose, a guinea fowl, and a pigeon. He asked his subjects to dig a hole under the tree and ordered them to drop all the sacrifices into the hole and cut the rope. Then the body fell from the tree and the boy came back to life.
The boy said: I did not hang myself! People went to see the King, he was surprised by the news and walked to the jungle to see if it was true.
When he returned to the palace the boy was sitting on the throne. The King ordered him to get up and give him back his place, but the boy refused, saying that his name was Oba Koso and that he had now become the king.
---
Other names given to Shango in different regions.
Shango or Sango Ogigi.
Obakoso.
Olufin.
Alafia.
Oramfe.
Jakuta: There are versions in Africa that maintain that Jakuta (the one who throws or fights with stones) is a different mystical deity from Chango, but due to the passage of time and the great similarities in mythology their cults were merging. This deity is described as the guardian of social morality, the one who, by order of olodumare, punished the faults committed,
Elitimo.
Afonjá.
---
Offerings to Shango
The main animal for sacrifice to the Orisha Shango is the Ram (Abo), although he likes and is sacrificed a great variety of animals. The turtle or Jicotea (Ayakua) is also an animal that is frequently used in their consecration ceremonies. Roosters, quail, guineas are also used as offerings to this deity.
In specific circumstances and as long as he is shot under a record by Ifa or the Dilogun he can eat goat, turkey, dog, snapper, steers, pigeons among others.
Adimu for Shango
In the offerings for Shango, the Amala Ila should not be lacking, which consists of Corn Flour cooked with Quimbombo. Green bananas, red wine, dry wine, gin, roasted corn, okra, corojo butter, yam, honey, sugar cane, coconut, yam soup, ekru, bean soup and bitter kola nut are some of the adimuses that They are placed on Shango to ask for good fortune and to free us from any adversity.
Fruits for Chango
Different fruits are placed on this Orisha, among which the apple banana should never be missing, on their thrones we always see a great variety such as: Green bananas, green bananas, apples, mango, mamey, pineapple. By tradition the fruits are oiled with butter of corojo (epo). In some houses of the saint they are wrapped in red cloth.
Most of the fruits as well as the offerings are taken to the Royal Palm after being presented to the foundation.
Herbs (Ewe) of Shango.
There is a great variety of herbs with which the attributes of Shango are enshrined, among them are: Cedro, Alamo, Pariso, pigweed, mahogany, sugar cane, Bejuco Carey, Mamey, Piñon, Rompe Saraguey, Ruda, flanboyan, Almacigo, Palma, Ceiba, Peonia among others.
Shango roads
Shango as a deity does not have paths or different versions of himself, rather we refer to titles or names that have been given to him over time. These names refer to his greatness.
Shango Alafi Alafi, Shango Olufina Kake, Obbalube, Obbara, Alayé, Chango Obba Koso, Chango Ladde, Obakoso, Alufina, Deizu, Debioso, Shango Oluoso, Sangó Ebbora, Chango Akoda (Arará), Ekun (Arará land), Obbaña , Obba Oso, Changó Ajokei (Arará), Eye, Obbá Bi, Jakuta, Ogodo (Tákua), Changó Dada, Shangó Fudewu, Changó Awuru (Arará land), Sangó Nipa.
Song of Shango with its meaning
Ẹ wé my l'èrè, (È) 'lúbe, Ọ mà me
You flatter me to have the profit,
The owner of the bright red, you are very satisfied.
Ẹ wé wé my. Ọ May. Sàngó, Ẹ wà 'yè. Ọ May
You flatter me, you flatter me. You are very satisfied.
Sàngó, You are looking for life. You are very satisfied
Ẹ wé my l'èrè, (È) 'lúbe, Ọ mà me
You flatter me to have the profit,
The owner of the bright red, you are very satisfied.
Ẹ wé wé my. Ọ May. Sàngó, Ẹ wà 'yè. Ọ May
You flatter me, you flatter me. You are very satisfied.
Sàngó, You are looking for life. You are very satisfied.
Mo jẹ. Mo jẹ
I eat. I eat.
Mo ni jẹ 'rè mi' ye
I eat my earnings to survive.
Mo jẹ àkúkOoh Mo jẹ ògèdè Mo jẹ àmàlà
I eat a rooster. I eat banana. I eat mashed yam
Mo jẹ àgbò
I eat ram
Ọba (a) do pe (è) my Ọba Aládó
Magic Pumpkin King
The spirit King owner of
the magic pumpkin is full.
Aládó pe (è) me Ọba
The owner of the magic pumpkin
The King's spirit is full.
Prayer to Shango translated
Je ko ye mi Shango Baale Koso Aremu bale Agboradu
Ogboran mu dun dakun mo and me. Aremu njo or Buru igba ni Bogpe.
Meaning:
Let everyone alert their children, so that "Shango" will not be accused of kidnapping.
When he wants to be aggressive
Transform a tree into a man.
When he wants to be aggressive
transform a man into an animal.
As they are from Shango's children
There is a myth that tells us that Shango is one of the Orishas that most influences the personality of his children, although there are differences between the men and women who worship this Saint.
Men who are sons of Shango are generally very charismatic and can be related with great ease in groups of many people. At first glance they will always attract attention, it is said that they are dancers, versed and even have the reputation of womanizing.
In the case of women, they tend to be more withdrawn, less social, which prevents a good development of their social relationships. There is a myth that Shango's daughters are unhappy in love.
For the generals the children of this deity (Oni Shango) are very intelligent, in the religious aspect they are very dedicated, humble and collaborative.
Shango's Patakie
When Chango crowned Yemaya.
Once Yemaya I was having work and it was by divination with Orunmila, and the Odu de Ifá Obara Dila came out, Orunmila He told her: If you want to improve your situation, you cannot deny or protest your luck, then he recommended that you make a sacrifice, which she made.
Yemaya left the house of Orunmila and he went into the forest and saw a child who said to him: mother, help me with this basket. That boy was ElewaInadvertently, everything in the basket fell on top of Yemaya; In the basket he had corojo butter so his suits got dirty. At that moment Yemaya he recalled Orunmila's warning "you cannot deny or protest your luck." She kept walking as if nothing had happened.
Then she found an old man who asked her for help, in doing so he made her dirty with some things that he had in a sack, then he ran away making fun of her. This was Elewa. Yemaya she went on the road and the same thing happened again with another person and she continued without protesting or complaining about her fate.
When she was tired of walking, she saw that a short distance away was a very beautiful city, with large buildings.
He arrived at the gates of a beautiful Palace and wanted to enter, but the guards refused him entry.
She sat in front of the Palace and began to cry, she thought that her sacrifice had not worked and fell asleep. When he woke up, he noticed that there was no one at that time because of the changing of the guard and he entered the Palace. I was amazed to see so many beauties walking through the Palace. At that, the king of the people, when he saw her, got up from his chair and went to where she was and knelt in front of her saying: "My mother give me your blessing." After that he asked Yemaya to kneel down, took off the crown and placed it on her.
They were all amazed and knelt in front of Yemaya and they rendered Moforibale to her, at that moment she became the queen of that town. The king of this story was Shango.
Works or Ebboses with Shango
Work with Shango to defeat enemies
In a star apple tree, a branch is pulled off and a paper is tied with the general names of the enemies or of the person who wants to harm us, a dry hole is opened from the root of the tree and the tie is buried, covered and light a candle upside down asking Shango:My father, god of thunder and war, be you who fight for me and may it be your will to destroy my enemy!
To get money
The star apple is opened and it is made corojo, sugar, gin and tranquil balsam and the full name of the person from whom you want to ask for the money. A candle is put on it every day for six days.
Once the candles are consumed, everything is left in a bush of framboyan.
Work with Shango for Love
Lamp at the foot of Chango to attract
A clay pot, the name of the person six times on a paper pierced by pins, a lightning stone, red precipitate, quicksilver, rainwater, river water, otí, epo, red wine, eating oil, six wicks caught and give a rooster to Shango.
Shango in the Catholic religion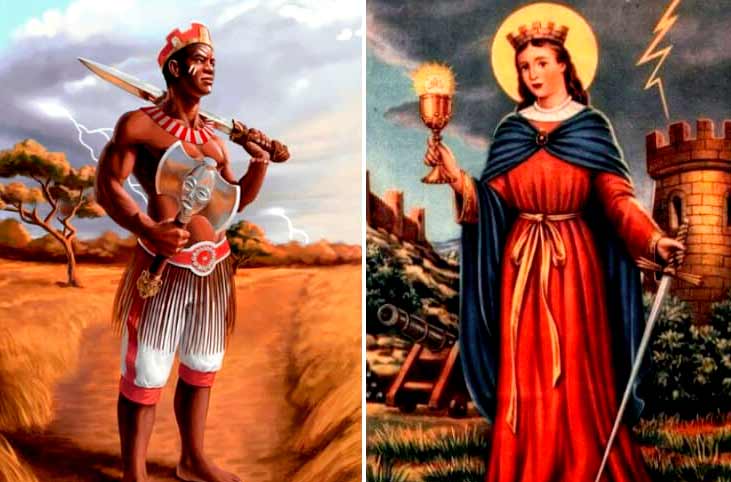 In syncretism, the monkey is associated with Santa Barbara. Many of us have found this association strange, since being a divinity that represents virility and masculine image, why associate it with a feminine saint of the Christian religion.
Why is Santa Barbara Chango?
The answer to this is really a mystery, many Iworos, Santeros or Babalawos have different theories such as that the attributes of Santa Barbara are a Castle, a Cup, a sword and a red cape, seeing some similarity with him among those objects.
Another theory is that really the syncretism with Santa Barbara was not with a monkey but with an attribute of the deity called Oshe, he lives in front of the pan and has a double-edged ax in his head. In Africa the altars of Chango have in front of an agboran of a woman, she has a very calm and serene expression (similar to Santa Barbara).
We could say that our ancestors took Santa Barbara as a representation of that feminine agboran that is used in the sanctuaries of Shango.
A very popular story says that Shango disguised himself in Oya's clothes so that he could escape from Ogun when he had him cornered. I do not find the exact similarity that syncretism leads to, but there is that patakie and there are many Iworos who support it.