5 Works or Ebbo with Oshun for prosperity and defeat enemies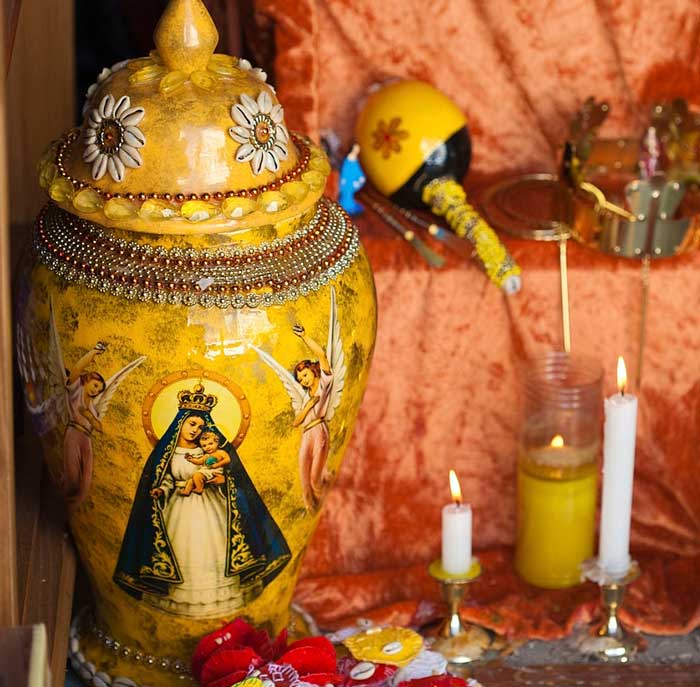 Oshun is a very powerful deity, he is very versatile and we can ask him to help us in any circumstance. Because it is the sweetness and representation of love in the Yoruba culture and religion, we often forget that in many stories Oshun is shown as a warrior and sorceress.
That is why we compiled 5 works with Oshun taken from the Sign of Ifa Oshe Paure.
Work with Oshun to win the war.
Necessary materials:
White plate.
Paper
Corojo butter.
5 canisteles.
Green fruits.
Yellow tape.
Honey
Sugar and cinnamon.
Beer.
Procedure: On the pieces of paper the name of the enemies or of the people with whom we have a lawsuit is written, they are smeared with corojo butter and tied with ribbons and placed on top of the white plate, to which they are previously makes a cross with corojo butter.
In the center of the plate are placed 5 cinnamon sticks, a small gourd filled with sugar water,
Beer and honey. The plate with the ebbo is placed in front of Oshun and 2 candles are lit and he is asked to help win the war we have with our enemies.
The process of the candles is done for five consecutive days, then you have to go to leave the work on the bank of the river.
When you return home, a Adimu to Oshun.
---
Play or ebbo with Oshun to defeat enemies
In a dry coconut with 4 holes, add quicksilver, salt in grains, a paper with the enemy's name, oil and vinegar, coffee grounds, 21 Ataré, cemetery earth, all this is lined with yellow cloth in front of OSHUN turning him on 2 candles.
This is done for three consecutive nights after 12 noon.
At the end you should go to leave the ebo in the river and bathe in the canutillo. This is done to clean the astral and that there are no traces of any spell or witchcraft.
---
It may interest you: What is witchcraft?
Oshun Incense
Dried peel of oranges, cinnamon, bay leaf, sugar, Paramí, charcoal, sandalwood, incense. Everything is placed on burning charcoal, strolled around the house and then placed in front of Oshun's tureen.
To attract people with OSHUN.
Boiled water in the tureen, 5 boiled chicken eggs with river water, honey and it is put in front of it.
Work to get money.
Dust at the foot of OSHUN, ekó leaves collected in the square, land of the 4 corners, 7 will tie up. It is blown or mounted for relic.
For debt money.
He makes a Head Rogation (kobori) with 2 chickens and 2 yellow roses and asks Oshun.