Prayer to the Virgin of Charity of El Cobre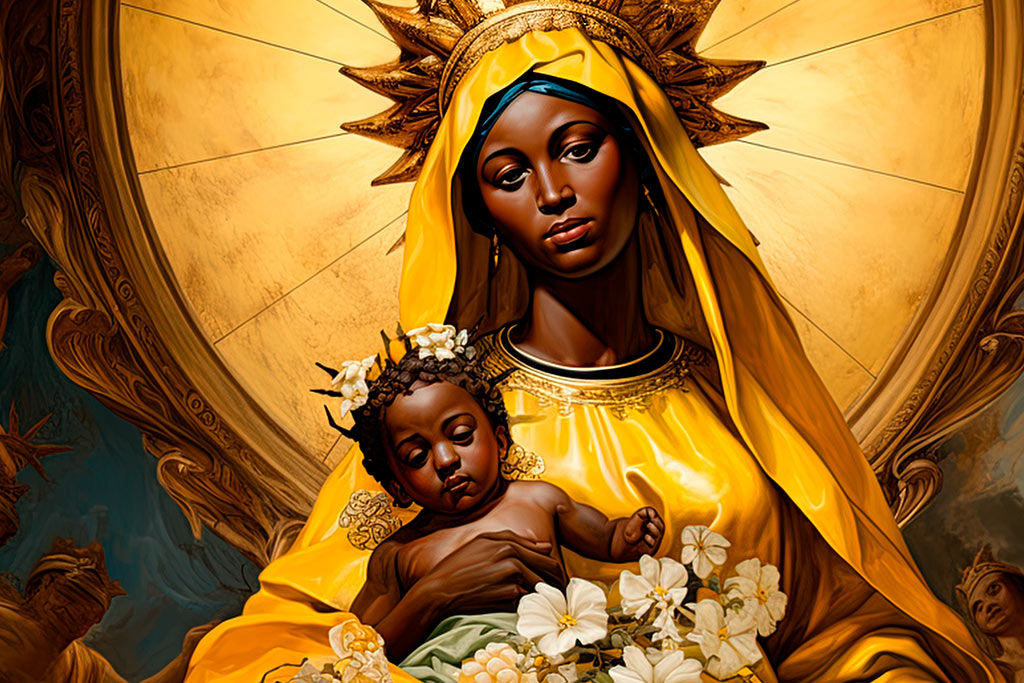 The prayer to Virgin of Charity of Copper It is an invocation that its devotees perform for various reasons, it can be done at any time or time of the year, depending on the need we are going through in life, or simply when we wish to connect with the mercy and grace of the Mother of God. Therefore, praying will always be the best way to be close to God and the Virgin.
"Blessed Virgin of Charity of Copper! Beautiful and revered patron saint of Cuba. Blessed are you before God Our Lord. Hail Mary, Mother of mercy. Just as you are a Mother, you are also the beloved and blessed Daughter of the Creator. Immaculate Spouse of the Holy Spirit.

Like a divine missionary, you carry your name in style, as you provide charity to all your children, both on Earth and in heaven. You are a symbol of love for God the Father, God the Son, and the Holy Spirit.

Oh Blessed Mother! You were full of divine glory, with the blessed fruit of your womb that brought salvation to men who perish before the sin of the world. Jesus the Redeemer, who came to Earth by the grace of God.

Oh Virgin of Charity of Copper! You, who by your will reached the coast of the island of Cuba, sailing among the blue waters of the Caribbean, prepared to bless an entire town that venerates you and recognizes you as its patron saint. You, who are the purest love that unites an entire nation, from north to south, from east to west. Mother of mercy, we entrust all your children and devotees to you. We are pilgrims to the world, and wherever we are our steps guide us to you.

Beloved Blessed Virgin, my faith in you inspires me with consolation and hope, because, being full of divine graces, you pour out on all souls that blessed light that springs from your maternal heart, thus granting us the favors that we desperately implore at your feet, because We are sure that you, our Most Worthy Mother, listen to us and serve us without discrimination, since you are a pious Mother.

Our Lady of Charity of Copper, light that illuminates the sky, sacred rose of paradise, help of the needy, before you I kneel with great humility requesting that you pose your kind gaze on me for a moment, so that you can observe my suffering, my struggles, my worries, and all the adversities that attack me. Glorious Queen of heaven and Earth, have mercy on all those who suffer the misfortunes of vicissitudes; have mercy on those we love; Have mercy on those who implore and call you, and allow us to enjoy your mercy so that our cause may be heard before the Throne of the Creator (make request). We trust in you, Mother of Charity, because you are help, hope and peace.

Your name and your beautiful image will forever be carved in the heart, in the mind and in the soul of all Cubans, and of all your devotees, anywhere in the world, as a sign of trust and fraternal communion.

Holy Mary, Mother of God and Mother of us all, pray for us before Jesus, your Son, and intercede so that our supplications are heard and materialized, as well as our sins forgiven.

Eternal thanks we offer you, Virgen de la Caridad del Cobre, because with your spirit full of goodness you flood the world giving us the grace of your charity of the Spirit. Blessed are you among all women forever. Amen".
At the end of the Prayer to the Virgin of Charity of Copper, it is advisable to pray an Our Father, a Hail Mary, and a Glory Be.
How to say prayers to the Virgen de la Caridad del Cobre?
Prayers to Cachita, like any other invocation to Mary, must be made with great respect, solemnity, faith, and above all from the heart, because only with full sincerity can we achieve the true grace of being heard and cared for by the Most Holy Mother of God. .
---
Prayer to the Virgin of Charity of Cobre for love
«Oh Saint Mary of Charity! You who came as a messenger of peace and love, arrived avoiding storms and currents of the sea until reaching a safe harbor, confirming yourself as the Mother of the world, and of all Cubans. It is your pure and immaculate love, that is why we come to you, Holy Mother, to honor you and pay you our respect and admiration.

With great humility we offer you all our love as children, and in your Mother's lap we place all our desires and hopes; and before you we dare to leave our deepest pleas (make request).

Mother of Charity, peace and harmony, to your Sacred Heart I entrust the union of my family, so that union, fidelity and pure and sincere love may reign among us. In your name I consecrate my loved ones so that by your side they prosper in health, development, stability and happiness, especially to (say the name of the loved one for whom the prayer is said).

In the same way, to your name I consecrate the health of the sick, the peace of those who suffer, the supply of those in need, and the company for those who are alone. May all your children in the world be able to reaffirm their faith and find the best path to fulfill their destiny.

Don't allow my mother, to go through moments of desolation, loneliness, bitterness or sadness. May heartbreak not drown me, not today, not tomorrow, not ever. Comfort all those who suffer a pain in their hearts.

We are grateful to you, Most Holy Mother, because you are, symbol of justice and love. Under your protection we take refuge, thanking Almighty God for having chosen you to be the Mother of all his children on this Earth. Amen".
---
Prayer to the Virgin of Charity of Copper for Health
«Oh Immaculate Virgin of Charity of Copper! You who from the heavens with your pious gaze watch over and protect each of the children of God, seeking the greatest possible well-being for all. That is one of the many ways in which you can reflect your virtues, because full of grace and free of sin you were conceived without the slightest shadow of corruption. To you, Blessed Mother, today I beg you to hear my prayers.

Oh beloved Mother of Charity! Before you I implore your good offices so that my health may be restored. I am sure that you can intercede with the creator so that my breath may be restored to me, since it is necessary to replenish the strength and vital force of this body, and who more than you, Immaculate Mother, to help me achieve grace? What do I long for?

In front of you I expose my fragility, the ailments of my body, my earthly ills, and all the diseases that could affect me. I have nothing to hide from you, my mother. I implore you, kind benefactor, full of charity and mercy, to bless my body, so that it may be returned to a perfect state of health. You, who from the fullness of eternity live and reign forever, cause your grace to be poured out on my vulnerable humanity, revoking all evil that is lodged in this imperfect and limited body. Pose then, your gaze full of love on me and fill me with health, I beg you.

Mother of the rosary, come even closer to us, we ask you for those who do not have faith or reject your light, for those who do not have bread, for the sick and the healthy, for those who live in anguish or suffer without hope, for the homes who prosper and for those who are on the verge of ruin.

Blessed Mother of God, Holy Virgin of Charity, it is well known that you never abandon your children and devotees, that is why we always trust in you. Your mercy is infinite, which is why you are known throughout the world as the most faithful Mother, daughter and wife, the one who loves the most and the one who listens the most, the one who cares the most. I ask you then, please do not abandon me at this moment when I need you most. Especially, help me with what I ask of you today from the depths of my being (make your request for health).

Glorious Virgin of Charity, you are peace, you are calm, you are comfort and healing. You relieve our torments, you are life and health. Like a self-sacrificing mother, you worry about the suffering of your children, well, you don't like to see them suffer. For all this, my Mother, I implore you once again, primarily at this moment, to help me recover my health, which little by little has deteriorated. I trust in your help Virgin of Charity, because I know that you will take my prayer to the kingdom of heaven, and due to your most pure intervention I will achieve the most desired grace at the feet of the Creator.

I recognize then that, despite having been a simple mortal, often a sinner, erratic and confused, I completely surrender my heart to you, begging you to embrace my body and that, wrapped in your divine mantle, the miracle of healing and restoration of my humanity free of any disease.

From now on I give you my body and my soul with infinite love, so that you may be the mediator of my health, as well as the protector of all my loved ones. Protect us, Mother of Charity, do not allow any evil to befall us, alleviate our sorrows, and help us live with the well-being that we so long for.

We thank you, Beautiful Virgin of Charity of Cobre, because we know that you carefully listen to our prayers and, like our mother, you always work to help us by sharing your immense love with your neighbor. Blessed are you and you will be forever and ever, Queen of Heaven, full of the Creator's grace. To you, God the Father, God the Son, and the Holy Spirit, all honor and glory, forever. Amen".
---
Prayer to Our Lady of Charity of Copper for difficult cases
"O Glorious Virgin of Charity of Copper! Beloved and heavenly mother. Right now my soul presents itself with great concern and uncertainty before you, begging you, who can see everything in my heart, to observe how anguished it is, which is why it longs for a prompt response from you, since only your intervention in My affairs could be the restorative medicine my soul requires.

Act then, Mother of Charity, with your Sacred Heart, interceding on behalf of my spirit, unleashing solutions with great promptness to the cause that overwhelms me (make a request). I beg you for mercy, Mary, that my wait is not prolonged and if it has to be, that you grant me the strength to be able to endure this vicissitude that afflicts me, until through your Immaculate intervention all my anguish comes to an end.

I am anchored to my faith in you, Most Holy Mother, as well as in the sacred word of your Son, Christ the Redeemer, that is why I trust that you will act in the wisest way in my life and that, in turn, you will help me understand and accept the actions of the creator in my life, that way my soul will find the peace it so longs for.

Our Lady of Charity of Copper, you who present our prayers to the Heavenly Father, because for him there is nothing impossible, to you I entrust my prayer full of faith, to implore with sincerity, but, above all, with a true need for help in the face of this difficult cause that I require solve (make request).

Likewise, I entrust myself to the protection of God the Father, his Son Jesus Christ, and the Holy Spirit. I humbly bow before you, begging you to listen to my request that comes from my desperate heart.

Although it has been very difficult for me to solve, I know that for God nothing is impossible, much less when a prayer is accompanied by your intercession, Most Holy Mother, that is why I put my full trust in you, in your help and mercy, as well as, I trust in your dear Son and in the entire court of heavenly angels and archangels.

In your hands I surrender, by your side I walk, and under your mantle I shelter Virgin of Charity. So that your most precious shine illuminates my path, overcoming all the obstacles that come my way on this Earth until my hands receive the miracle for which I pray so much.

That is why I loudly affirm that: I trusted in the action of my Mother Mary, Virgin of Charity. I accept the miracle, sure that it is the best for everyone. I delight in the glory of God and His Spirit because I fervently believe that the miracle has already been granted. Thank you thank you thank you. Amen".
---
You can read: Oshun prayer to ask for Protection
---
Prayer to the Virgin of Charity of Cobre for money
«Oh Virgin of Charity of Copper! Beautiful Mother of God I call you. I bow at your feet, putting all my trust in your power, because it is well known that as the selfless Mother that you are, you do not leave any of your children without your help and intercession.

I ask you please, Charitable Mother, to extend your hand so that you can get me out of this affliction. Oh Mother of mercy! Pray for me before Almighty God, so that I can achieve the help that I so long for, and assisted by your valuable intervention that success can come to all my affairs.

I recognize that the proper functioning of my finances corresponds to my efforts and, therefore, it is in my hands and no one else's to achieve the success of my goals, but I am also sure that I could achieve nothing without your company.

That is why I implore you, Holy Mother, to bless me with prosperity and abundance in my business and work affairs. Likewise, may that blessing reach all the people who are related to my economic activities. Therefore, may your protection protect my colleagues, clients, suppliers, and employees.

Loaded with faith, I beg you with the total certainty that my requests will be heard, thus achieving what I so long for. In your immaculate hands I hand over my business (or job) so that from this moment on you will be the one who manages it and be my greatest partner. May all the errands, expenses, payments, and debts that you have be covered with ease and peace of mind.

I implore you, Mother of Charity, to illuminate my paths so that the appropriate people always arrive at my side to carry out the most successful businesses. Also that I can surround myself with the most efficient collaborators to delegate any task to them, thus making their work fruitful for them, just as it is for me.

Protect me, my Mother, from low feelings such as greed, so that my intentions may always remain clear and pure, offering the best at all times, at the best price and for the benefit of all. That the product (or service) that I provide is the best in your market. And that by reaching the maximum profitability of my businesses, all its benefits are used for purposes that are pleasing in your eyes and in the eyes of the Lord.

Oh Virgin of Charity! I beg you to turn your merciful gaze towards me, who am your humble devotee. Intercede with Almighty God so that financial obstacles do not take over my life and that I can find at all times an effective solution to the financial problems that arise. May there be no debt that I cannot pay, no ruin, no trap, no setback that can harm me.

Help me, Most Holy Mary, so that each business that I undertake, and throughout the development of my professional career or my trade, can evolve positively. Lay your hand on my savings and all the goods and possessions that I have, from the humblest to the most ostentatious, because I give you everything. In you I place all my trust today, tomorrow and always.

I thank you my beloved María de la Caridad, reiterating that I am your most fervent devotee. I entrust myself to you with the greatest firmness and full of absolute confidence in your power. With confidence today I affirm out loud that: there is no opportunity for failure within my business (or job).

I recognize your presence in my life, my Mother, today and always. Protected under your shelter I repel all evil, I push away every person who feels envy, or any other negative feeling against me, and who in this way could delay your blessings. May God continue to fill you with grace forever and ever. Amen".
---
Prayer to the Virgin of Charity of Cobre to get pregnant
«Mother María de la Caridad del Cobre, you who were found by those humble young people sailing in the waters of the sea, bringing peace and renewing the faith of your people. Likewise, you brought the greatest blessing to humanity by housing in your immaculate womb God the Son, Our Savior, Jesus Christ.

You, who, chosen among all women, were filled with grace by the divine will of the Creator. You who are an inexhaustible source of life, our lawyer, protector of the souls of all your children who, despite being victims of temptation and sin, desire with all their strength redemption to have God's blessing, awaiting your intercession.

To you, Our Lady of Charity, I raise my deepest prayers. You know very well the happiness that means having a child in the womb enjoying the grace of the Lord. Help me now, my Mother, so that her immense grace rests on me and I can remain in a state of gestation, counting on your help from the first moment the seed of life is established in my womb, until the moment of birth.

This is the request that I fervently deliver before you (make request). Oh Mother of all the children of the Church! Allow me to have the joy of counting on your help, thus granting my greatest desire. You know very well how painful it is to lose a Son, even though that great sacrifice has meant forgiveness of the sins of the world. Now before you lies a devotee of yours, who, although I would never compare my suffering with yours, I confess that my soul cries in misfortune for not being able to achieve such a long-awaited gift from God, having a life growing in my womb.

I entrust then, my health, my heart and my soul to your protection, Mother of Charity, so that this noble request that I make of you may be promptly granted. In exchange for such great grace, I promise to care for and protect the creature that with your help I will conceive, educating him under the teachings that your Son left us and supported by the word of God.

There is no doubt within my heart, because from the depths of my being I fully trusted you, you have always showered me with attention and care, protecting me at all times, therefore, there is no reason to doubt your help and mercy. . Allow my prayers to become miraculous decrees and materialized realities for the good of all involved.

I thank you in advance, Mother of Copper, because with your beneficial intervention I will soon achieve my goal, because of your wonderful power and incalculable goodness, happiness will soon settle in me. Amen".
---
You can also read: