IWORI OBARA: Meaning, Tips, Sayings, Pataki, Traditional Ifa and more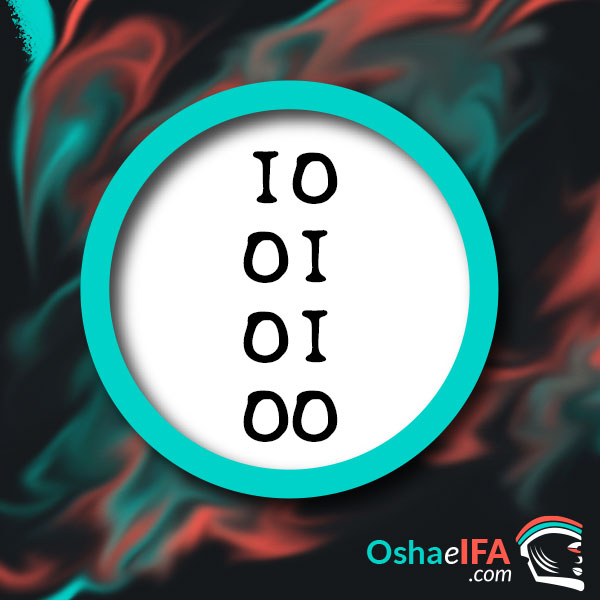 The Odu of Ifa Iwori Obara, is number 52 in the Genealogical Order of Ifa and is the combination of the Older Oddun Iwori and Obara. This sign speaks of a person with great healing powers, it recommends us to learn the mystical virtues of herbs since Iwori Obere is Maferefun Ozain, who fulfilled the role of Healer in the Town.
A slave cannot aspire to the seat of the king. This was the one who made the sacrifice that his babalawos recommended to him and he wanted it to manifest itself immediately.
Other names for Iwori Obara:
What is born in the odu of Ifa Iwori Obara?
Born: The virtue of the grass Pica pica.
The position of Olúo Osanyin.
The Ayoko dance.
The spiritual radiation.
Jealousy among humans.
In Iwori Obara: The person loses because of a good heart.
Eshu covered Orúnmila's house with picapic grass.
It was where Orúnmila, thanks to Osanyin, lived by curing illnesses.
The Iwori Obara sign points out:
It is the Ifá of the Stilts.
For anything that is done in the head, it is necessary to put ashé of this Ifá.
You have to give Eshu a goat.
He who is uncomfortable loses his life.
You have to feed the Guardian Angel.
Orúnmila gave Oshún many parrot feathers.
This is Yewá.
Shango was embarrassed.
---
You can read: Oddun of Ifa Obara Iwori
Recommendations of the Iwori Obara sign:
Here Shangó is thrown flour with very hot okra in his pan. Before, the interested party sits on the ground, next to Shango, and with his hands he takes the flour with okra and eats.
Because Iwori Obere was the first to pray for the head, it is necessary, for anything in the head, to put Iyefá prayed from this Odu.
Here Oshún gets 5 pumpkins.
Jealousy among humans was born here.
This Ifá says that he who is uncomfortable loses his life.
Here you always have to feed the Guardian Angel.
Here Orúnmila gave many parrot feathers to Oshun.
In this Ifá, Yewá speaks and is given two white rabbits along with Obatala.
If you see this Odu Iwori Obara on a woman, you have to urgently put the Yewá handcuffs on her, so that she does not go crazy.
Here there is an Egun who annoys him, where you have to make him Sarayeye with a fresh fish to avoid that.
This is a long-lived and renowned Ifá, as long as he is responsible and makes sacrifices.
Because of this Odu, the enemies are either inside the house or at work.
Feed the stone at the door of the house.
Iwori Obara predicts that things this year will turn out well; everything you undertake.
All the losses that are had by this Ifá are for having a good heart.
You should live more calmly in life and not run and sit and think about the big problems.
Iwori Obara Sayings:
So much does the pitcher go to the source, until it breaks.
By having a good heart, you lose.
Other people's faults are paid.
The Snapper communicated with God.
For one embarrassment, the world can end.
Odu Iwori Obara Ifa Code of Ethics:
The Awó must have character and prudence to place each one in his position so that he lives with decorum and his house is not a disaster.
You can read: Ifa Iwori Bogbe sign
Iwori Obere bans:
Here the person, due to the blows he receives, his heart becomes weak and he suffers great suffering.
The diseases that afflict this Odu are: heart problems, memory loss, misplaced pregnancies, stomach problems, such as inflammation and ulcers, insanity problems.
This Ifá (Iwori Obara) in Osobo indicates that they are cursing him and they are going to rob him.
Here you have to be careful with a woman who may be your misfortune.
There are old people's curses.
You will have to be careful with a friend, whom you love like a brother and they walk together, because you can be arrested for a robbery that he commits and they blame it on you. And you will pay someone else's fault.
Here Shango got angry and made people sick. Here you have to do Ifá.
For this Ifá, you have to be careful with thieves and liars, as they will bring you problems in both daily and religious life.
What is the Iwori Obara sign talking about?
This sign of Ifa marks that the person will always lose for having a good heart. Others abuse the person, even the family itself, which will never consider it since it does not put authority.
With this Ifá, you have to clothe yourself with character and place each one in the place that corresponds to your attitude, with respect to you and thus your life will not be a disaster.
In this Ifá, the virtue of the Pica Pica herb was born, so that its enemies would not find it.
This was where Orúnmila, thanks to the hospitality that Osanyin gave him, did not have to work the land anymore, living from the cure of diseases ever since. Therefore, Awó Iwori Obere has a great ashé to heal sick people and work with herbs, as long as he knows the healing virtues of them.
In the sign of Ifa Iwori Obara the office of Olúo Osanyin was born. Osanyin is given 21 young chicks (for power).
For Iwori Obara, Inle Abata must be received.
This is the Ifá of the Stilts. And the Ayoko dance was born, which is with a face and stilts, and the Adamú Orisha ceremonies.
Spiritual radiation was born, where the spirit floats over the medium's body to couple it.
Here, for the person to resolve, the head is requested and is ordered to put on a Shango necklace that reaches the navel. This necklace will be prayed on the Board.
Here an Eshu is mounted with a stone that is in front of the house. This Eshu must have Pica-Pica grass and chicken feet and other ingredients. You will be given a small goat. Well, that stone stands in your way.
Ifa says in Iwori Obara:
That all his things this year are going well; Give thanks to Orúnmila and make the way to receive it. Don't run so much behind work. has had many losses. You are a very capable person for all things. -You. it is very funny for everyone and also for what they will have to receive.
You are very lucky but, at the same time, you have many enemies, you suffer from the stomach. He has many moles and he has one that has not yet been seen, he has a tendency to be the son of Oshún or Obatalá. -You, out of a good heart, always lose, take care of your heart, receive Orúnmila so that he can teach you to live and give you health.
They have to go looking for you for a business that suits you, you want peace of mind.
They have cursed him. Luck comes to you and you have to feed Eshu and his Guardian Angel. Thank your child. You have to get a woman pregnant, watch out for justice. You have to go to an issue that, as well as it will go, you will not want to return. You have to sacrifice for memory. You have enemies at work and at home.
You have a stone on the door, which you have to feed him. You. you have to live calmer in life.
You have problems with an older person, try to fix that situation. For women: Beware of a misplaced pregnancy extrauterine pregnancy -,
because your life may be in danger. He has a friend whom he loves like a brother and they walk together; Be careful with him, he is going to steal and, since they are together, he is also going to go to prison.
You cannot hang out with thieves and deceitful people. You have to be careful, don't make him feel embarrassed and upset, he can die.
His Eshu has a lot of picks so that the enemies don't catch him. it is very spiritual.
Prayer of the Odu Iwori Obere:
IWORI OBERE ILU BERERA OUN BEREYO OUN TIROLA OUN TIROLO IYE TIMODE AYE OUN BERE LOKO UJU ADIFAFUN IYALODE EYEI BEMEKUN YEWA YOKO YEWA EURE LEBO.
Suyere of the Iwori Obara Sign:
OFUN YERE YERE ORUNMILA KOIDE
Iwori Obere's Ebbo:
To overcome difficulties:
He takes a piece of the neck of beef, opens it like a book with a knife, spreads corojo butter on it and puts Ogún on it. In a short time, he cleanses himself with that meat at Ogún's foot, especially under the armpits, asking Ogún what he wants to solve. Then he takes him to a railway line, leaving him there with his right.
Paraldo of Iwori Obara:
The Paraldo is made with the ritual fabrics and herbs and a hen that has few feathers will be taken.
Herbs (Ewe) of the Odu Iwori Obara:
Pica pica.
Foot of chicken.
Aberikunlo.
Pataki of the Iwori Obara sign:
THE VIRTUE OF THE PICA PICA.
On this road, Orúnmila was sent to call from a nearby town, but before deciding to go he became Osode, seeing this Ifá, Iwori Obere, and Ifá ordered him to become Ebó (the one indicated above) before leaving the house, because there was cheating on the way and that he had to do it quickly.
At the time that Orúnmila was going to do the Ebó, they knocked on the door and, when he opened it, he saw a man who was desperate, who told him that he wanted him to examine him quickly, that he had a big problem.
Orúnmila told him that he could not attend to him at that time, to come back later. But that man's plea was so great that he attended to him, seeing this same Ifá.
It happened that Eshu, who was looking at everything while Orúnmila consulted the Aleyus, put a large stone in the door of the street, and when the Aleyus went to leave, he did not notice the stone and went to the governor of that place and He told him that there was a fortune teller who had stolen his money.
The governor went to Orúnmila's house with the individual and the soldiers. On the other hand, Orúnmila, who was oblivious to this threat, had already made the Ebó and had given the goat and the rooster to Eshu at the door of the house, together with that stone.
When they were near Orúnmila's house, the governor asked the man where the fortune teller lived. And the man said to him: - «But if I came here a while ago and no fortune teller lives around here, there is only a lot of picapica. Then the governor tells him that he was a liar and ordered the soldiers to take him to prison for being a liar and to be making fun of him.
Eshu, after eating the goat and the rooster that Orúnmila had given him, covered the picapica house with his virtue and neither the man, nor the governor, nor the soldiers could find it.
Learn: What are the Odu of Ifa?
Iwori Obara Ifa Traditional:
ÌWÒRÌ ÒBÀRÀ
Àwon ajàkàsù n sunkún àwon ò yo
Kín leni ti n wa tinú orií je ó se
A day fún Ìwòrì ò bèrè
Èyí tú lóun ò duó de Ifá mó
Ó lóun n renu ìgbé rèé so
Gbogbo ire tií móoó se déédé Ìwòrì ò bèrè
Gbogbo è ní n fò ó ru
Do you still know yes?
Wón ní kó rbo
Or I know
Sùgbón kò ní sùúrùtó
Ó bá lóun or lòó pokùn so
Oba àwon ará ìlú kejì sì kú
Ifá pé eni to bá fé so ni kí wón or fi joba
Nígbà ti Ìwòrì or bere dé ibi or ti féé so
kó fi okùn borùn
Làwon ará ìlú Òdíkejì bá mú u
I won't know
Ìwòrì ò bèrè mòmò so
Ma mòmò bínú orí oyè n bò
Ìwòrì ò bere mòmò so.
Ifá in Iwori Obara says that this person's life will be pleasant. He will say that he is suffering, but he should not think badly of himself. He must offer sacrifice. He will be richer than his contemporaries. Currently, he wants to execute a situation according to his wish but that specific thing does not have it. Ifá says that he must be sure; as it will be as you wish. All the bad things this person has faced will go away in time.
Those who ate Àkàsù èko are lamenting because they were dissatisfied
What will people who live in poverty do?
They were the ones who made divination for Ìwòrì ò bèrè
Who said that he is tired of waiting for Ifá
He said he would go into the woods to hang himself
All the good things in life that always came to Ìwòrì ò bèrè
Began to elude it
He asked despondently. What would I do now?
They recommended to him to make sacrifice
He offered it
But he did not exercise enough perseverance
He decided to hang
The king of the neighboring city however had died
His Ifá said that the person who is about to hang himself is the one who should be chosen as the king
When Ìwòrì ò bèrè arrived at the place where he was going to hang
When he had the rope around his neck
The townspeople held it up
They started to sing
Ìwòrì ò bèrè do not hang
Ìwòrì ò bèrè do not hang
Don't be frustrated as a majestic Orí is on the way
Ìwòrì ò bèrè do not hang.
Eshu of the sign Iwori Obara:
The Eshu of this Odu is assembled with a stone from the front or patio of the house (the one that is asked) and it will be sprinkled with enough picapica (Ewe-Iná), and the other ingredients.