Ogbe Fun: Meaning, Tips, Sayings, Patakies and More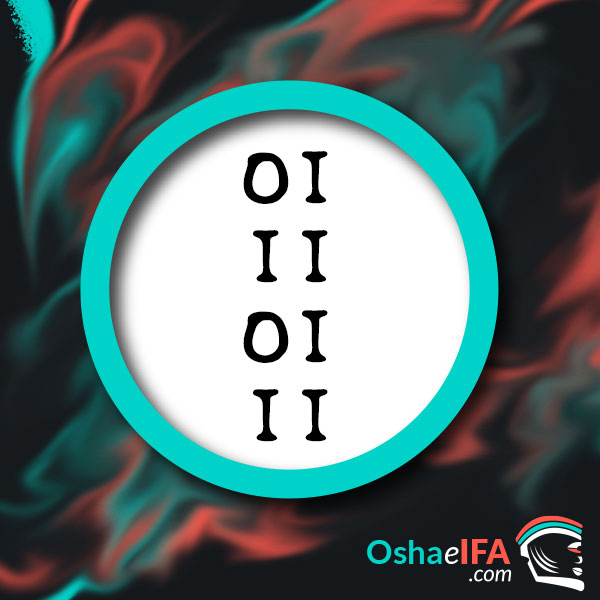 Ogbe fun Funlo is the Odu number 31 in the stately Order, this sign is the combination between Ogbe and tells us about the making of the Ide as an attribute to avoid premature death. He also tells us about the separation of the oracles and the adele and the dilogun.
Ifa advises the person to follow a religious path as he will have many followers and disciples.
Ifá wishes for this person the good fortune of wealth, women and children. Ifá says that there is a masquerade in his clan, he must go quickly and offer sacrifice to the masquerade so that his life improves. Ifa Ogbe Fun sign.
Other names for Ogbe Fun:
Ogbe Fun funlo.
Ogbe Ofun.
In the odu Ogbe Fun is born:
Eruba, fear.
Okunmolorun, the one who creates terror (Stupor).
Cough.
The worship of salt and sand, salt came into the world to give flavor to food.
The rose apple.
In Ogbe Fun, the reason why for the snail to speak in Estera you have to give it Obí.
Yewa.
Where is the Idefá.
The coronation of death.
Royal jelly.
The rejuvenation of the person.
Recommendations of the Ogbe Ofun sign:
Take care of yourself because as you take care of yourself, so you will live.
Put the Idefá on quickly, if there is not, put an Oyá necklace until you can solve the Idefá.
Dress in White.
At Ogbe Fun Funlo, Ebo is made with Salt.
Take care of your wife because her luck is yours. Do not despise her, if she leaves, it will be her misfortune.
Give food to his head and that of his partner.
Don't run stopped. And turn the empty bottles on the table.
---
It may interest you: Sign of Ifa Ofun Nagbe
---
Ogbe Fun Sayings:
The one who drowns.
Do the words are gone with the wind.
Young people never hear the death of the cloth and this becomes tatters.
To be respected, you must first respect.
Respect begets respect.
Courtesy costs nothing, every human is worthy of respect.
Olofin's blessing cannot be forced.
With the moon or without it, the Obá will be respected when it is found.
What you want is rejected by someone else.
The man and the family are like the river and the river.
The river opens the stream and it enslaves the river.
What one found, another was lost.
Neither wise nor ignorant, they can say, that they did not find a staff in the bush.
Ifa Code of Ethics from odu Ogbe fun Funlo:
As the Awó takes care of himself, so he will live.
Ogbe Fun Funlo bans:
Don't talk your stuff.
Have no interest with colored conjugates.
Do not go to bed after eating food.
Don't eat anything red.
Do not leave the dishes dirty.
Don't hear Sirena songs (gossip) so you don't get lost.
You cannot have anyone housed in your home, because it creates serious problems for you.
He cannot eat Kolá Nut or Coconuts.
The odu of Ifa Ogbe Ofun speaks:
The Sunset. The Sunset.
Lack of compliance, gossip behind the person's back.
Ogbe Fun talks about wanting eternal life, where Òrúnmìlà says: as he takes care of himself, he will live.
To put a chain on the door of his house (Here he lowered the chain to the ground).
That the daughter of the Awó has to marry mrúnmìlà and Osha for happiness.
That the person himself divulges his secrets, because he talks about it.
That you have to put the Idefá quickly.
That the woman throws dust on him and will leave him.
That he is the legitimate son of Obatala.
Here the Cough came down to earth.
Here the voice is carried by the wind.
Ogbe Fun got rich selling Sal.
This is where Obatalá sent Orúnmìlà to bring him death.
He talks about a problem of justice fundamentally with a woman.
The person is used and then abandoned. (The Chain came down to earth).
Talk about Embarrassment.
Ogbe Fun Funlo talks about receiving an inheritance, for this he must take a trip.
That the blood can rise to the head.
From heart ailments and dizziness.
That the person can go to jail.
Fighting with another person for possession of a house or something, where you. will expire.
Of a tragedy where you. could have died.
Here the maja became Obá.
Here at Ogbe Fun the Dilogún was separated from the Adele.
Here the saints and the Orishas were divided.
Here the elderly lost their minds due to lack of knowledge and responsibility.
Baba Amunimu, the one who controls birth and death.
This was where death did not want to recognize Orúnmìlà.
They gave the power of the world to Obatalá and he had no strength and Òrúnmìlà gave him a steel staff.
Says Ifa Ogbe Fun
That you take care of your wife, because her luck is yours, do not despise her, because if you let her go, it will be your misfortune; Feed your head and your partner's.
Maferefun obatala, be careful with a small woman, do not go to touch her because there may be legal problems. You visit a house, that woman is Shango's daughter and if he touches her, it will make her sick and make her pregnant and suffer an embarrassment. in your house there is a red woman who does not get along with not eat anything red. you have to take an inheritance and your blood will run to your head. you suffer from heart and dizziness.
There is a man who wants to take away his wife, be careful not to take him prisoner. you have to take a trip to get an inheritance. never run oraldo. there is a person who is involved in bird affairs, he is a chemist. you are fighting with another person for possession of a house; He must win despite having the advantage in favor of his opponent.
If you are married, you are thinking of taking a risk; you had a tragedy where you could have died. you visit a house where they do you a lot of good, but you don't appreciate it. He cannot be upset because of arguments or discord.
You are in love or you have a very strong woman of character who is going to harm you. What you have is a capricious with that woman to get revenge. do not drink any alcoholic beverages so you do not get sick and die.
Obatala does not want you. wear black clothes. you want to go see a person who has taken something from you. You have clothes from a deceased that I buy from a person, bring them to make him ebo, because if that eggun wears it he will ruin everything he owns.
---
It may interest you: Oddun of Ifa Ogbe Yono
---
Prayer of the Odu Ogbe Ofun:
Ogbè Fun Funlo ikú puani erí bawí ikú mayeyeri waní adifafun eruba unlofé oma Obatalá ashé lebó Jekua odushe Egungun mariwo lebó abeboradie meyi, akukó meyi, eku, eya epo, owó.
Suyere of the Ogbe Fun Funlo Sign:
OGBE FUN FUNLO ENI OYA EWE ASHINIMA ELUDERE OGGUN YEYE OGBE
BA ILE, OGUNDE OSHE ARA IKOKO OGUNDE ARIWO TALE.
Ogbe Fun Ebbo:
Ogbe fun funlo artwork to put behind shilekun ilé
A dry coconut is cut in half and each half is added with obi kola, osun Naburuku, obi motiguao, Gold powder, hutía and smoked fish, corojo butter and cocoa, husk, honey, sweets, dragees, candies, Iyefá para iré umbo.
Work so that your enemies do not destroy you
A gourd with water, 4 pieces of yam inside, cocoa butter and husk, she wonders what Osha is wearing, the days and the path she takes.
Ogbe Fun Funlo brand:
Yewá seat.
Stole.
Nonconformity.
Ogbe Fun Notes:
Marriage Proximity
Beginning and end.
Yoko Osha (ask for Elegba).
That the virtue that Olofin gives him is given to another person.
Who receives food at home.
Losses from unbelief.
Herbs (Ewe) of the Odu Ogbe Ofun:
Cedar.
rose apple
Apple.
moruro.
Platanillo from Cuba.
---
It may interest you: Treatise of the sign of Ifa Oshe Di
---
Ogbe Fun Funlo Ifa Traditional
OGBÈ ÒFUN
Ogbe fohun folohun
Nò fohun fólóhun
Babaláwo Oba ló dífá fun Oba
Oba n tòrun bò walé ayé
Obá wá n sunkún alái lénìsìn
Is it still there?
Wón ní kó rbo
Won ní gbogbo ayé ní or without Oba
Ibi táa ti mo erú nìí
Àyàfi eni ti ò low je irú
Béèyán bá n je irú lobè
Tó bá lóun ò without Oba
Èpè ní n se lé ara è
Wón ní kí Oba or tojú irú
Oba tojú irú
Wón ní kó fún gbogbo ayé kí won ó móo je é
Wón ní gbogbo àwon ti bá n je iru
gbogbo won lenèsìn Oba
Wón or móo wárí fun un
Àfi bí won ò bá je irú mó láyé
Gbogbo ayé bá je iru
Oba ba di Ògá
Aye ye Oba
Lobá wá n jó ní wá n yò
Ní n yin àwon Babaláwo
Àwon Babaláwo n yin Ifá
Ó ní béè làwon Babaláwo tòún wí
Ogbe fohun folohun
Nò fohun fólóhun
Babaláwo Oba ló díá fun Oba
Oba n tòrun bò walé ayé
Oba wá n sunkún alái lénìsìn
Wón ní kó rbo
Oba waá gbébo nbè
Oba rubo
Ení go down heh irú
enu re a ru
Ení or bá je iyò
Enu re a yo
Eni bá je Epo
Enuu re a po
Èyin ò mò péni ó bá je irú
Ni won n pè lérú Oba?
Gbogbo èèyàn to low je irú ò
O yes deru Oba!
Ifá in Ogbe Fun, advises this person to offer the sacrifice. He will have followers. He should offer the sacrifice to have followers or devotees. Ifá accepts a pumpkin full of Irú.
Ogbè returns the item to its owner.
I will not return the item to its owner.
It is the Babalawo of the King who made the divination for the King.
When the King came from heaven to earth.
He was crying for not having any devotees.
How would I be able to have followers on earth?
They asked him to perform the sacrifice.
They said that all people on earth worship the King.
This is why we know the erú.
Except the person who does not eat Irú
If you eat irú in your soup.
And he refuses to worship the King.
The person does it unconsciously
They told the king to prepare irú
The King prepared irú
They told him to give food to all the people on earth
All the people who eat Irú
They are all the devotees of the king.
They must worship the King.
Except those who do not eat irú on earth.
Each one began to eat irú
The king then became the master (teacher).
Life pleased the king.
He began to dance and rejoice.
He praised his Babaláwo
His Babaláwo praised Ifá
He said, that it was exactly as his Babaláwo had said.
Ogbè returns the item to its owner.
It is the Babaláwo of the king who made the divination for the King
When the King came from heaven to earth.
He was crying for not having any devotees.
They told him to make sacrifice
The King learned that he must make sacrifice.
He did it.
He who eats Irú
His mouth goes "ru".
He who eats Iyò
His mouth goes "yò"
He who eats Epo
His mouth goes "po"
Not all of you know what it is to eat Irú
Does the person call Erú (the slave) of the king?
All the people who liked irú
They had become the king's slaves throughout the world.
Patakie from the Ogbe Fun sign:
Guess in Heaven for two monkey brothers.
During his stay in Heaven, he performed major divination ceremonies. He guessed for two monkey brothers (from the monkey family named Edun and Ariwo). He told her to sacrifice and stop arguing so they could avoid sudden death. Edon made the sacrifice but Ariwo refused to do so. However, they did not refrain from continuing their constant bickering and arguing.
One day, the two brothers were arguing over a fruit, when they were on top of a tree. The discussion that broke out between them attracted the hunter, who took advantage and shot him. Ariwo fell wounded and died. Edon ran away.
Therefore, in divination the person should be told to serve ESHU with a male goat and to refrain from being poisoned until death.
It is believed that Ariwo would not have died if he had not had his altercation with Edon.
Guess for cough and throat.
His surrogates Baba Kou Kou and Baba kan Gidi Kan Gidi guessed for cough and throat when they left Heaven. They advised the cough to make sacrifices so that it could have abode on Earth. They told him to sacrifice kola nut, coconut and a small chicken to ESHU. He made the sacrifice.
They also advised the throat to sacrifice to ESHU with goat, palm oil, honey and salt, in order to avoid on Earth the risk of harboring a parasitic and troublesome host. He refused to make the sacrifice. They both came to the World separately. Upon arrival, Latos began to look for a home.
She approached the throat for temporary accommodation and the latter agreed to grant it.
The throat began to be interested in the materials used by the cough to make sacrifice in Heaven, which was kola nut and coconut. As the throat ate these materials more and more, the cough began to develop at home. The three materials with which the throat refused to make the sacrifice in Heaven, are the antidotes that would have prevented the cough from developing rapidly, but he refused to use them.
As the cough developed, his throat became so sick that his voice became inaudible.
Then the throat went to ORUNMILA by divination, where he told him that he himself was the architect of his misfortune, by refusing to make a sacrifice as he had been told to do in Heaven.
However, ORUNMILA advised him to do it with two goats, honey, palm oil, roasted coconut and roasted kolá nut. He produced the necessary materials quickly. After the sacrifice, ORUNMILA took part of the materials, added burned marble seeds (akue in Benin), roasted kolá nut, burned them and mixed the powder with salt, palm oil, honey and gave the mixture to the throat to to lick from time to time.
As the materials used to prepare the mixture were the same as those forbidden to coughs, the cough ran and entered the stomach house seeking shelter as soon as the throat began to lick the medicine. It was only from that moment that the throat began to have peace of mind.
In fortune-telling if Ogbe Fun comes out, the person should be told to make sacrifice to ESHU and to refrain from hosting any visitor for some time, so as to avoid the danger of hosting someone who will create serious problems for him, such as insomnia or wakefulness. He should refrain from eating kola nuts and coconuts.
DIFFICULTY IN MARRIAGE
Ogbe Fun Funlo story
There was a girl who had difficulty not finding relationships and when they met they told each other what their bad luck would be, because they could not find boyfriends, and they were already passing the time for marriage. They went to parties and meetings, but they never found boyfriends. Olofin's daughter was among them and in the same conditions.
One day Olofin organized a party and invited all the girls and before going to the party they went to Orúnmìlà's house, who made him bear seeing this ifá telling him that they had difficulty finding boyfriends to get married, and to solve this problem they had to do ebo. They all went to the party that Olofin gave, after having made ebo. Òrúnmìlà told them that they were all going to get married
There were six young guests, all of them found their respective ones, but this did not happen to Olofin's daughter, so seeing this, that the others had married and that her daughter had remained single, she wanted to know the cause and why. He went to Òrúnmìlà's house and he told him that his daughter had not married and the others had, so Olofin gave him his daughter's hand and ìrúnmìlà married.
You can read more about the signs of Ifa: