José Gregorio Hernández: The doctor of the poor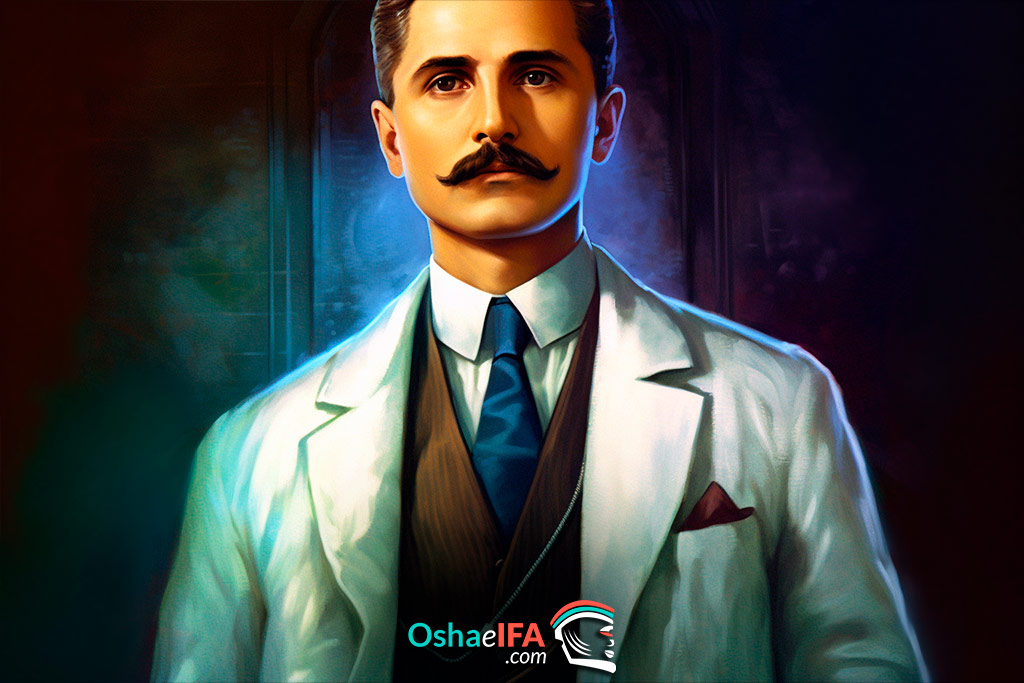 Dr. José Gregorio Hernández is one of the most beloved and respected characters in the history of Venezuela, where he is revered, sharing his cult throughout Latin America. His work has been recognized as an example of charity and service to others, which has led to the fact that, pending his canonization by the Catholic Church, he is already considered a saint in the heart of the devotees of him
Who is Jose Gregorio Hernandez?
José Gregorio Hernández Cisneros was born on October 26, 1864 in Isnotú, Trujillo state, Venezuela. He is the son of Benigno María Hernández Manzaneda and Josefa Antonia Cisneros Mansilla. He was a physician, scientist, philanthropist, and devout Catholic who dedicated his life to serving others and serving God.
Son of a humble family, from a very young age he demonstrated his vocation for science and medicine. At the young age of 13, he entered the Trujillo seminary to study Latin and philosophy, graduating with a Bachelor of Philosophy in 1882.
Soon he felt the call of his vocation and decided to dedicate himself completely to medicine. In 1888, he graduated with honors from the Central University of Venezuela and traveled to Europe to continue his studies in Berlin, Paris, and Madrid.
During his stay in Europe, Dr. Hernández received first-rate training in science and medicine, but he was also enriched by the culture and art of the Old Continent. He was a very educated man, he spoke English, French, Portuguese, German and Italian and was fluent in Latin and Hebrew. An admirer of the great masters of painting, music and literature, he always maintained a curious spirit and an open mind towards the world and knowledge.
Back in Venezuela, Dr. Hernández settled in Caracas and began to practice medicine in his private practice. His fame as a doctor quickly spread throughout the city, and he became the family doctor for many important people of the time.
Dr. Hernández did not limit himself to practicing medicine within his office, his love for his profession and his neighbor led him to go further, and concerned about the needs of the poorest and most disadvantaged, he dedicated much of his time and of their own resources to care for the sick in public hospitals and to help the communities most in need.
In addition, he was a renowned scientist and researcher. He published several papers on medicine and biology, is considered a promoter and pioneer of scientific and pedagogical teaching in Venezuela, and was a member of various national and international scientific societies. He also carried out studies on the flora and fauna of Venezuela, and worked for the defense and conservation of the environment.
José Gregorio and his Catholic faith
Dr. Hernández was a man full of devotion and Catholic faith. From a young age, he was deeply religious and committed to his beliefs. He was not a distant believer, he was an active parishioner. He was a member of "Catholic Action", a secular organization that promoted the apostolate and evangelization in the world.
In 1919, Dr. Hernández founded the Liga Nacional de Trabajadores de la Acción Católica, an organization that aimed to promote social justice and human dignity from a Christian perspective. In this organization, José Gregorio found a space to put into practice his commitment to Catholic values ​​and teachings, and he worked tirelessly to spread the faith and Christian teachings among the faithful and non-believers alike.
In addition, he was a founding member of the Círculo de Estudios de la Doctrina Social de la Iglesia, an institution dedicated to studying and disseminating the social teaching of the Catholic Church.
In 1908 he decided to become a religious, entering on July 16 of that same year in the monastery of the order of San Bruno in the Charterhouse of Farneta, Italy, but he did not complete his initiation because he became considerably ill for which the Father Superior ordered his return to Venezuela for his recovery, in 1909.
The same year he arrived, he received permission to enter the Santa Rosa de Lima Seminary (currently, the Santa Rosa Pontifical Catholic University). Three years later, he tries again to return to the monastery and goes to Rome with his sister Isolina. He enrolled in Theology courses at the Pontifical Pio Latin American College, however, once again his plans were interrupted by health problems when he suffered a lung condition that forced him to return to Venezuela.
He belonged to the Secular Franciscan Order of Venezuela, in the Fraternity of La Merced de Caracas, in the Church of Nuestra Señora de la Merced de los Frailes Capuchinos, he made his profession as a Secular Franciscan. His admiration for the life of Saint Francis of Assisi was what inspired in him that sensitivity and love for those most in need.
How did José Gregorio Hernández die?
Dr. José Gregorio Hernández died tragically in the city of Caracas, Venezuela, on June 29, 1919, at the age of 54. He was on his way to attend to a patient when a young man driving a Hudson Excel Supersix, a luxury vehicle brought by Juan Vicente Gómez for his ministerial leadership, was surprised by Fernando Bustamante, who ran over him at the corner of Amadores, in La Pastora, Caracas , Venezuela.
In the accident, Dr. Hernández fell to the ground and hit his head against the edge of the sidewalk, which caused a fracture in his skull. Bustamante quickly took him to the Vargas Hospital and when he arrived at the hospital, there was no doctor to treat him, so he went to look for Luis Razetti.
Back at the hospital, the chaplain priest Tomás García Pompa informed them that José Gregorio had already passed away. Razetti signed the death certificate.
The news of his death shocked all of Venezuela, because Hernández was widely known and respected for his dedication to the poor and needy, whom he helped through his medical practice and philanthropic work.
At his funeral, thousands of people from all over the country gathered to say their final goodbyes and honor his legacy. His coffin was transferred to the UCV University Auditorium on the shoulders of his students and disciples, then he was taken and buried in the General del Sur Cemetery.
Beatification of José Gregorio Hernández
Since his death in 1919, many faithful and devotees have revered Dr. José Gregorio Hernández as a saint, and have requested his canonization so that his virtues may be officially recognized by the Catholic Church.
In 1949, the beatification process for Dr. Hernández was officially opened at the Holy See in Rome, Italy, at the request of the Catholic Church of Venezuela, this process lasted for more than six decades due to different difficulties and obstacles.
A year later, the National Commission for the Beatification of José Gregorio Hernández was created in Caracas, chaired by Monsignor Rafael Arias Blanco, and in 1951, the Holy See declared "nihil obstat", that is, there is no impediment to the opening of the cause of beatification.
The diocesan phase of the beatification process began in 1952. It compiled testimonies from people who knew Dr. José Gregorio Hernández in life. The diocesan phase is carried out in the Archdiocese of Caracas and in the Diocese of Trujillo. Its closure takes place in 1967, and the collected documents are sent to the Congregation for the Causes of Saints in Rome.
In 1975, the Congregation for the Causes of Saints approved the "positio", that is, the summary of the documents presented, and sent it to Pope Paul VI for his review.
Four years later in 1979, Pope John Paul II received the file for the cause of beatification of José Gregorio Hernández and in 1986 declared him "venerable".
However, thanks to the perseverance and commitment of many faithful and religious authorities, Dr. Hernández was beatified on April 30, 2021, becoming the first blessed in Venezuela. The beatification ceremony was held at the San Juan Bautista church, in downtown Caracas, where the doctor did much of his work.
The beatification of Dr. Hernández is a testimony of his life, full of commitment to the Catholic faith, as well as his vocation of service and his love for others. At all times he was an example of virtue and charity, and his legacy continues to inspire many faithful and non-believers to put into practice the true values ​​of the Catholic faith.
Canonization
To achieve the canonization of José Gregorio, only one step is needed after his beatification. This consists of the verification of a new miracle after that recognition was granted. In this sense, authorities of the Catholic Church in Venezuela have stated that three facts are being studied, of which it is only necessary to choose one of them, and under the corresponding scrutiny there is a high probability that his canonization is soon to happen. .
In other words, the canonization process for Dr. José Gregorio Hernández is advancing and his devotees are anxiously awaiting recognition of the earthly and spiritual work of the doctor of the poor.
The miracles of Dr. José Gregorio Hernández
The devotees of the Doctor of the Poor attribute endless miracles to him, but officially the most popular miracle that the Catholic Church has recognized and that led to his beatification is the case of the healing of the young Yaxury Solórzano. This miracle occurred in the state of Guárico, when the girl and her father were intercepted by criminals to steal the motorcycle on which they were traveling in the Mangas Coveras sector. The antisocials shot at them and seriously injured the little girl in the head. Her mother entrusted her to the doctor of the poor and after 20 days she was healthy. The Catholic Church officially recognized this miracle in 2021.
The cult
The cult and adoration of Dr. José Gregorio Hernández in Venezuela is deeply rooted in the culture of the people. Since his death in 1919, the "Holy Doctor or doctor of the poor" has been the object of veneration and devotion by millions of faithful throughout the country.
One of the most evident manifestations of this cult is the large number of churches, chapels, and sanctuaries dedicated in his honor throughout the entire national territory. One of the most outstanding places is the Church of Nuestra Señora de la Candelaria, located in the center of Caracas, where her tomb is located.
Another representative place of his worship is the José Gregorio Hernández Sanctuary located in his birthplace in Isnotú, Trujillo state - Venezuela. Many pilgrims also come there to request their help or to thank for the favors received.
The Chapel of the Vargas Hospital in Caracas, where Dr. José Gregorio Hernández worked as a doctor and where he was transferred at the time of his fatal accident, has also become a place of worship for many devotees and patients who await their recovery in that place.
In addition to the churches and sanctuaries, there are also various brotherhoods and groups of devotees that are in charge of keeping devotion to Dr. José Gregorio Hernández alive. These organizations carry out various activities, such as processions, masses, novenas and vigils to request his help or pay homage to his work.
The cult towards Dr. José Gregorio Hernández is immense and extends far beyond the practices related to the Catholic religion. Many practicing people from other religious cultures also fervently follow his figure and believe with great faith in his miracles, offering him promises and gifts in gratitude for his intercession.
---
What is asked of José Gregorio Hernández?
The devotees of Dr. José Gregorio Hernández venerate him and ask him for different things according to their needs. Some of the most common requests that are made are:
Request your help to cure diseases: since Dr. José Gregorio Hernández was a doctor during his life, it is common for him to be asked for his intervention to cure various diseases. Therefore, he is known as a "Holy Doctor" who helps heal physical ailments, and extremely serious diseases such as cancer, heart problems, diabetes, among others.
His help to find work is implored: many devotees also go to Dr. José Gregorio Hernández to ask him to provide them with opportunities to find employment, improve their employment or economic situation. It is believed that his intercession can open doors and help find solutions to labor issues.
Provides your protection in times of danger: the "Doctor of the Poor" is also invoked to ask for protection in situations of danger or risk, such as traffic accidents, situations of violence, or natural disasters such as earthquakes or floods.
It transmits strength to overcome difficult moments: devotees can also ask Dr. José Gregorio Hernández to give them strength and strength to face difficult situations, such as the loss of a loved one, family problems, depression, among other ailments.
His intercession is requested to solve the needs of others: many devotees come to José Gregorio to ask him to intercede for the needs of others, be it for the healing of a sick family member, to get help in difficult situations, or for desperate causes. This is usually very effective since the saint takes into account the kindness with which such a request is made.
---
You can read: Prayer to José Gregorio Hernández to ask for health and protection
How do you ask José Gregorio Hernández for a miracle?
To ask José Gregorio Hernández for a miracle, devotees usually resort to prayer backed by a deep faith in his intercession before God. Depending on the religious and cultural tradition of each person, there are several ways to implore their help, some of the most common are:
Novena: A novena is a series of prayers performed over nine days of continuous prayer for a specific purpose, such as asking for a miracle. To ask José Gregorio Hernández for a miracle, a novena can be held in his honor, during which his intercession is requested to obtain the desired grace.
Rosary: ​​the Rosary is a very popular Marian prayer in the Catholic tradition, which consists of the repetition of a series of prayers and meditations on the mysteries of the life of Jesus Christ and the Virgin Mary. To ask José Gregorio Hernández for a miracle, you can pray the Rosary in his honor, asking for his intercession in each mystery.
Pilgrimage: Some people make pilgrimages to places where the image or relic of José Gregorio Hernández is venerated, such as the Church of Nuestra Señora de la Candelaria in Caracas, Venezuela, where his tomb is located. During the pilgrimage, you can make a request for a miracle and ask for his intercession.
Meditation: Meditation is a spiritual practice that seeks to focus the mind and heart on a specific goal, such as the request for a miracle. To ask José Gregorio Hernández for a miracle, you can perform a meditation in his honor, visualizing him as an intercessor before God and asking for his help to obtain the desired grace.
Finally, we must take into account that there is no mandatory formality to ask for the help of José Gregorio Hernández, what is really important for this is to have faith in his intercession and maintain an attitude of trust and hope in divine help, knowing that God's will is always perfect.
---
Prayer to José Gregorio Hernández to ask to cure diseases
This prayer can be accompanied with a white candle in the name of Dr. José Gregorio Hernández. It can be done at any time and place of the day:
«Oh glorious Dr. José Gregorio Hernández, noble intercessor before God for the sick and needy, it is you who we who suffer humbly implore, so that you look with compassion at (say the name of the patient and his suffering).
We ask you to intercede before Almighty God, so that (say the name of the patient) receive the healing in his physical and spiritual body, the one he needs so much. You know very well what it is to suffer from a disease, because you dedicated your life to helping those most in need, you know well the pain experienced by those who suffer from illnesses, I implore you not to forsake us.
With faith and hope, we ask you to help us in our needs, assist us in this moment of anguish and concern. We beg you to give strength and courage to (say the name of the patient) so that he does not give up, face this test, and wait patiently until you provide him with the healing he needs to recover his health and well-being.
We ask you to grant us this grace, if it is God's will, so that we can experience the mercy and divine love that overflows from the kingdom of heaven, and that at all times our faith and trust in God grow and strengthen. We ask this in the name of the Father, the Son and the Holy Spirit.
Amen".
Prayer to doctor José Gregorio Hernández to ask for favors
This prayer can be performed for several days in a row, in this way we can intensify the connection with the doctor of the poor, and reach his help in a timely manner:
«Oh blessed and adored Dr. José Gregorio Hernández! During your life on Earth you gave hope and relief to those most in need, today we implore you to accompany us in this moment of despair and affliction.
We know that you know the anguish and pain that we can experience when we face difficult and seemingly insoluble situations, because your pity is immense. Therefore, we come to you for help and comfort.
We implore you to intercede before God Our Lord for this desperate cause (make a request). Allow us to enjoy the grace to overcome this difficult situation, and give us the necessary strength to face the obstacles we are experiencing.
Oh, charitable doctor of all of us, healer of heaven and earth, we trust in your goodness and mercy, show us the path to follow, give us the wisdom to make the right decisions that help us find peace and serenity in the midst of the storm.
Oh Dr. José Gregorio Hernández! You who dedicated your life to serving others, we beg you to help us in this moment of dire need. Do not abandon us in our darkest hour, and guide us towards the light and hope that God gives us now and forever.
Amen".
---
If you are interested in learning more about the saints, you can also read: