Ifa Oshe Bara Sign: Meaning, Sayings and Tips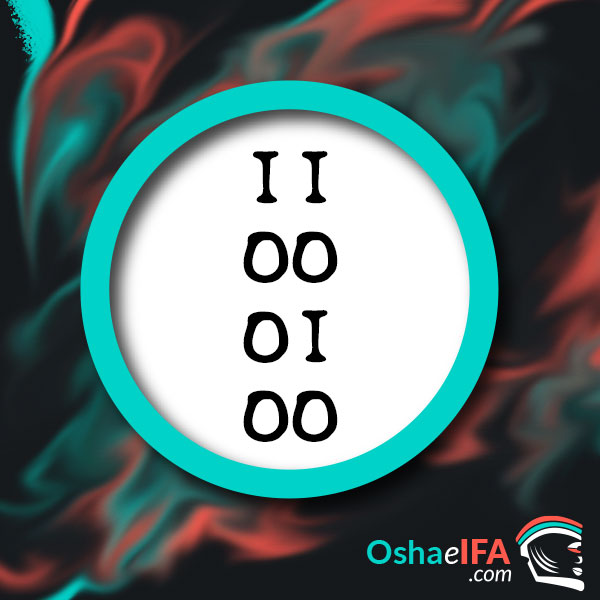 Other names for Oshe Obara:
Oshe Bara, Oshe bara the cloud.
Who is born in Oshe Bara?
The loss of memory due to excessive abuse of their faculties.
Personality disorder.
To crown Santo, you have to take the neophyte to the river, to bathe him.
Hanging a bunch of bananas on the gate of Igbodún de Oshá.
The burden of SHANGO's asheré.
The tongue is the scourge of humanity.
Por eso quiero hacer las cosas con Calma y poder terminar Los trabajos pendientes.
What does the sign of Ifa Oshe Bara talk about?
The gray matter left the brain.
Oshe Bara, speaks of strange dreams due to the influence of Eggún hermit.
You have to have clothes.
The son inherits something from the deceased father.
OSHUN is upset with the person's behavior.
Ifá raises the total change of life.
The hand is operated.
You can not forget the fulfillment of commitments.
Speak the chest with coins.
They blame the woman for being an adulteress.
It is said that the Oddun is a traveler for children.
There is war with Mayombero.
The Oddun Oshe Obara 5-6 points
The blue-eyed women are Osobbó.
The woman has multiple births.
Children are estranged from parents.
He gets scared after asking because he gets it.
The Eweses are: Raspa Lengua, Languelo.
This is the pumpkin (Eleguede) speaking.
The bell speaks.
It may interest you: Treaty of the Odu of Ifa Obara she
Oshe Bara Sayings:
Look at what is yours, then what is foreign.
The child is not the happiness of the parents, it is with the thorns of the mountain.
Hammer and knife and sharp arrow, is the man who speaks false testimony against his neighbor.
The tongue is the scourge of the body.
Por eso quiero hacer las cosas con Calma y poder terminar Los trabajos pendientes.
Of the two holes in the body where badness comes out, the most dangerous is the mouth.
Remove iniquity from your mouth and remove iniquity from your lips.
Ifa Odu Oshe Bara Code of Ethics
The Awó does not study or work at night.
Meaning of the oddun Oshe Bara:
This Oddun Oshe Bara talks about how to ensure a prosperous future for a child and warn adults of a promising future.
The person will have too many problems in daily activity. He or she needs to go back and reconsider their activities.
Here was born the loss of memory, due to excessive abuse of their mental faculties, where gray matter is damaged and leaves the brain.
Here the tongue is the scourge of the body, because the person talks too much and they speak of it in good and bad.
OSHE BARA 5-6 is a spiritist and a fortune teller, he must do Ifá if he is not EGUN's or Oshá's horse.
The OSHE BARA sign is the pumpkin, which is planted in a certain place and the trunk branches out and these guides spread out, and when the fruits bear, they are too far away to pick them up. The children leave his side.
The Awó of this Odun must receive OSANYIN.
In OSHE OBARA 5-6 the bell speaks: the frame of the bell represents the mouth and the clapper the human tongue. For it to sound good, you have to speak good.
Tips from Oshe Obara 5-6
Because of this Oddun, the person sees someone kill or knows who killed someone, because they gave them the knife or the crime weapon to keep.
Here it was born that, to crown the Saint, you have to take the neophyte to the river to bathe him. The taro leaf must be present and a bunch of bananas must be hung on the door of the Igbodún in Oshá.
For this Ifa sign, OSHUN and ORUNMILA are given 2 chickens in the river. This Oddun prays for the Awó to beat his opponent, who is doing evil to him.
For this Odun, the person has money saved.
Here the person needs to go to church to pray when the priest is officiating. You must take a cotton pad and a salamander, sit down, clean yourself and release it so that the salamander stays in the temple praying for you, so that OLOFIN hears it.
The diseases that afflict this Oshe Bara: problems in the belly, gallbladder, liver, heart problems and blood circulation.
Another Awó should look for him and do EBO for him.
You always have to do it at the door of the house because the dead person is crossed (give it a joint and cleaning).
You must have clothes.
Oshe Bara Santeria
OSHUN is angry about the behavior of the person and must be given 2 bye.
The person has to exercise his old profession, because he abandoned everything, he has to turn his life around; he wants to be of everything and changes religions, occupation and social positions.
The person becomes disenchanted with the expected results but it is because he promises and does not deliver. ELEGBA puts him in trouble and they steal him, he seeks problems with the Saints and with his fellow men.
You are lucky for money, it should ring in your pocket, but you have to comply.
Beware of insult, your language or language is the worst, because OSHE BARA speaks of language and slander.
It is an Oddun «Oshe Bara» traveler for children, they can die.
The children walk away and confront him with his spouse.
Parents have to ensure the future success of their children.
You must be careful what you ask for, your mouth is very dangerous, you talk too much.
The sign of Ifa Oshe Bara, warns adults of upcoming trips and take adequate precautions with them.
There are many problems in the activities of the aleyo. He or she needs to stop and rethink their activities.
Avoid excesses of alcoholic beverages.
---
It may interest you: Sign of Ifa Oshe Meyi
Oshe Bara (5-6) in Ire:
In this Oddun, he is given cornmeal (AMALA) with malvaté grass at the door of the house.
Oshe Bara in Santeria, intimate things are not discussed, or projects that he has in mind because they are disrupted.
This Ifá talks about a change of life totally, and even the change of job, where the person has to exercise their old position.
Oshe Bara prohibits working at night and sleeping with light.
The dead are loose at night and gather where they see a light, and this bothers and disturbs the person.
Eshú is frightened by the blood of the pigeons.
He talks about how to ensure the success of a child's future and warns adults of an upcoming journey.
There is too much chaos in the person's daily activities.
He or she needs to go back and check their behaviors.
Oshe Obara in Osobo
IKU was chasing the banana bush and with EBO he was saved.
OBATALA curses the person in this Oddun, because he feels offended by the same
OSHE BARA does not accept that the Awó dies. The Awó does not die when his things remain alive.
The Awó of this sign cannot work after 6 in the afternoon, as he loses his wealth.
The person abandons the Saints and their profession.
Says Ifa odu Oshe Bara
Be careful, that misfortune comes to you on your tongue. Always look at your affairs before looking at those on the street. Luck is close to the person. Do not work at night, or sleep with light. Do not fight with your spouse, pay what you owe to SHANGO. If you are a woman, fix your clothes, do not lend or give them to anyone. There is a sick child in your house, you have to pray for him to get better. To the person. the dead chase you, attend to the Saints. Do not get wet in the rain, avoid scares even if there are explosions. Take care of the relic of the Saints, it will be your downfall if you don't. Along the way comes an inheritance. The persana is in everything and is in nothing, that is why she does not solve her situation, she must analyze herself. Help your children prosper.
Prayer of the Odu Oshe Bara:
Oshe Bara Baralanube Egun Omaye Orun Obaniayeawo Oshe Omo Oshe Bawami Ifa Ori Layeo Oba Made Iku Egun O Bebeye Awo Orun Iku Kofilere Ashe Ona Eshu Atokun Orun Koniwede Enishe Mayele Iku Ori Wabaye Ofo Omoleri Omonifau Lori Manafereda Omoleri Omonifau Lori Manafereunda.
Oshe Obara's Ebbo:
Ebo to bind the tongues of the enemies:
A canton dick for eshu in the four corners. Afterwards she takes the big cock home, the tongue and starts to dry. The body of the big cock is opened, cleaned, roasted and put on Eshu, with plenty of roasted corn and, the next day, it is taken to a bush.
When the tongue is dry, take four white threads, four red threads and three black threads, twist them well, wax them and chalk the tongue on a paper with the enemy's names. Everything is placed in a goat leather bag given to Eshu or cloth of the color that marks Ifá and the interested party will use it on top when they have to go to a distant place. When he is at home, he hangs it behind the door. On Tuesdays, brandy is blown with 3 guinea peppers.
To win over ESHU:
You take a basket made with ariques de yaguas and put a mouse head on it and blow it on the outside, also adding jutía and smoked fish, toasted corn, roasted green bananas, buns and put it in Eshu so that it can be eaten. help solve problems.
Work to obtain power from Oshe Obara 5-6:
A small jar with six holes in the lid is prepared and EBO is made with the clothes of the person concerned, soil from their shoes. SHANGO is placed in front of the Ifá board and six candles are lit for him. After the EBO is finished, SHANGO is given 6 quails along with the jar, and the quail heads go into the jar. A feather from the right wing of each quail is attached to the cap and sealed. He stands next to SHANGO and when he determines it, he stands at the foot of a royal palm. When the slaughter of the quail is finished, SHANGO is lit 6 oil wicks and extinguished at night with Omiero made from OBATALA herbs. That goes to the roof of the house. The EBO is carried to its destination.
It may interest you: Odu of Ifa Oshe Di
---
Pataki of the sign Oshe Bara 5-6:
The pebble.
Oshé Bara was very poor and he went to the river bank to speak with Oshún. She gave him a pebble and said: "As you take care of it, you will prosper." Oshé Bara took it home and put it in a visible place.
He began to prosper and, every time he made money, he would buy an ornament for his house and then he would move the pebble of place. The time came when Oshé Bara had accumulated so many ornaments that he had no place to put the pebble and, forgetting Oshún's advice when he handed it to him, he threw it away.
Oshé Bara began to lose everything he had and, being already poor, he went back to Oshún, who, seeing him so poor, asked him about the stone. He replied that he had so many valuable and beautiful ornaments that the moment came when he had nowhere to put it and he threw it away. Oshún told him: Since you threw away what I gave you and forgot my advice, you will die poor and alone.
Oshe Bara Ifa Traditional Nigerian
I KNOW ÒBÀRÀ
Apá or kÓsé
Won a dòòyì ka
A day fún Olomo a hee hee tell me
Wón ní kó rbo
Olomo a hee hee tell me n làá pÒrúnmìlà
Ó bá rbo
Wón nípá èèyàn ò níí ká a
Nbii Babaláwo è é gbé je ìje wòmù nùu
Bó o bá ti lè je yes
Bée loó se san
Òrúnmìlà bá n se díèdíè
Bí on bá feku bo Ifá
Yoó je diè nbè
Bí on bá feja bo ifá
Say ní ó je nbè
Òrúnmìlà pé ká kíyèsí àwon tí n je Ije wòmù
Ó ní e móo wo àbò
Ìgbèyìin won è é dáa
Ó ní sùgbón eni tí n je díèdíè
You ò je èrù mó on
Ipáa won ò níí ká a
Ngbà ó jé pé òótó ní fí n rìn
Ó ní Apá ò kÓsè
Won a dòòyì ka
A day fún Olomo a hee hee tell me
Wón ní kó saca káalè kó jàre
Ebo did not know
Òrúnmìlà gbébo nbè
Ó rubo
Njó eku kéré kèrè kéré
Tell me
N lÒpèé jeé là
Tell me
Njó eja kéré kèrè kéré
Tell me
N lÒpèé jè la
Tell me
Njo eye kéré kèrè kéré
Tell me
N lÒpèé jè é là
Tell me
Njó were kéré kèrè kéré
Tell me
N lÒpéè jè é là
Tell me.
Ifá advises that this person should not be greedy.
Outstretched arms cannot wrap a Baobab
They will surround it
They were the ones who made divination for Olomo a hee hee hee hee
He was advised to offer sacrifice
Olomo a hee hee tell me is the alias of únrúnmìlà
He made the sacrifice
The strength of man will not overcome it, they said
This is the Ifa verse that commands the Babaláwos not to be greedy
It's all you can eat
It's all you can afford
Òrúnmìlà began to grab by bits
When they sacrificed a rat to Ifá
He would eat only a small part of it
If they sacrificed fish to Ifá
It's just a small portion that he will eat
Òrúnmìlà said that we must notify those who eat greedily
He said 'Wait to see his end'
'Its terminal end will never end well'
'But those who eat only a little'
'And refuse to take what does not belong to them'
He said that the person will never suffer at the hands of his enemies. '
So it is sincerely that he does things
He said 'Outstretched arms cannot wrap the Baobab
They will surround it
They were the ones who made divination for Olomo a hee hee hee hee
He was advised to take care of the earth
And offer sacrifice
Únrúnmìlà heard about the sacrifice
The day there is a shortage of rats
Poco
It is what Òpè will eat to make wealth
Poco
In the days of few fish
Poco
It is what Òpè will eat to make riches
Poco
The day of scarcity of birds
Poco
It is what Òpè will eat to make riches
Poco
In the days of few animals
Poco
It is what Òpè will eat to make wealth.
Poco
It's meat lean days
Little.