Orisha oko
The Orisha of the land, of hard work, the farmer with his crops. Deity of the field. One who protects crops and plows. An infallible symbol of life because it contributes to the existence of the means to sustain ourselves, enabling us to obtain the necessary food to survive, that is Orisha Oko.
What is Orishaoko? Or Who is Orisha Oko?
This is a major Orisha, its name comes from the Yorùbá «Òrìsá Okò» which can be translated as: Orisha del Labrado. His father is considered to be Obatalá and his mother Yembó.
Orishaoko was the husband of Olokun, whose relationship ended in great conflict after he revealed his flaws. However, they never managed to be completely separated, since the sea and the land always live together. In another of his avatars, he also had a love relationship with Yemayá.
It is said to live on the land, especially on the land that is plowed, sown, and harvested. He also lives on the rooftops. Due to its active participation in the productive dynamics that supplies food to living beings, it forms an important trilogy with Oshas Oke and Oggue, who in turn are also responsible for the harvests, the rains, the internal fire capable of starting the land and the animals.
In humans this deity symbolizes willpower. It represents stability, permanence, perseverance, steadfastness, survival, strength, the cycles of nature, agriculture, and intense and lasting feelings.
He is the natural patron of farmers but is also considered the arbiter of all disputes, especially when it comes to women's conflicts. He is even credited with being the judge in the Orisas trials.
Among his work, he stands out to ensure prosperity on earth. Bees are your messengers.
What is Orisha Oko like?
Among his characteristics, it stands out that he is very hard-working and discreet, he knows how to keep secrets deeply and is said to be chaste, to the point that his testicles hang down to the ground.
It is also said that Orisa Oko has two personalities that vary as the day passes. While the light of day is glimpsed, he appears as a pure and upright man, but at nightfall he is transfigured disguising himself as Ikú (death). In fact, he is credited with receiving the corpses that are delivered to him by the Orisha Yewá.
Orishaoko's number is 7 and its multiples. His day is Monday.
Orisha Oko tools
Its receptacle is a clay pot or rubber painted red and white to which plowed earth is placed.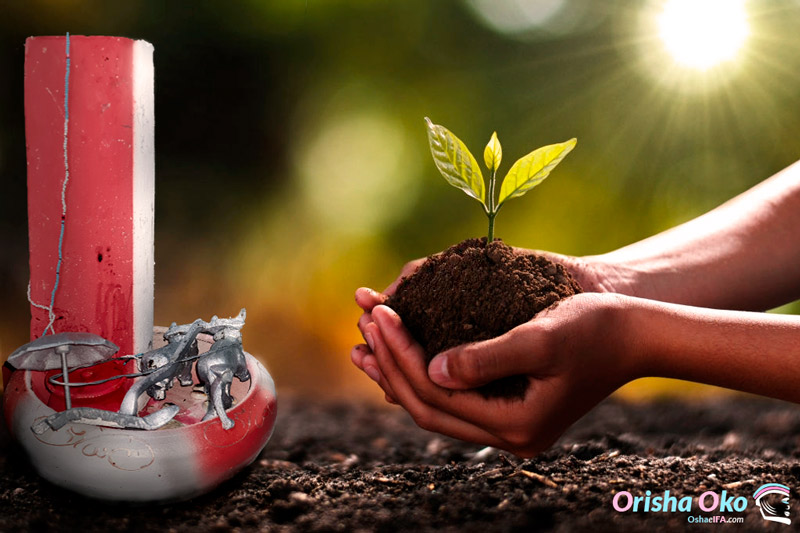 2 dried coconuts loaded and painted red and white (Osun and Efún)
1 small clay pot
1 horizontally laid tile painted with stripes of the same colors
1 hand of snails
7 corkscrew or ground snails
1 otá collected in the field
1 metal-carved plowman with his umbrella and two oxen pulling the plow.
To invoke it, an acheré or guiro painted with red and white stripes is used.
Orisha Oko's day or its allegorical celebration inherited from syncretism is usually commemorated on May 15.
Orisha Oko colors
Their color is red and white, although their necklaces are made of pale pink or lilac and turquoise blue beads, sometimes they are adorned by corals or white beads striped with red are incorporated.
This saint does not ride saint horses, therefore, he does not have a dance.
Orisha Oko story
When Shango was born his birth was generated by the work and grace of Olofin and Oloddumare. At the moment of his birth Olofin exclaimed: That is my son! And it will be delivered to the Orisa Dada Abañeñe to take care of its upbringing.
Thus, Olofin gave Dada everything he needed for his upbringing and maintenance. Time passed and Shango was always growing with the blessing of Olofin, who was teaching him all his secrets, because he very much wanted to have a child on earth.
Olofin visited his son every 6 months, in this way he was guiding him in the development of his life. When Shango became a man, he left Dada Bañeñe's house. When the time came when Olofin went to see him, he was surprised to learn that his son was not there, which worried him enormously.
Olofin decided to visit Orunmila who made him Osode (divination) and saw the Odu odibara, indicating the corresponding sacrifices that were carried out with haste. He also recommended that he should give a grace or an award to the person who found his son Shango.
At that moment, under the inclement sun, Orisha Oko was working the land while singing: "yenibo misesere yenibo miserere", surprisingly from the bowels of the earth came a voice that answered her song.
Hearing that, Orishaoko pressed the plow more with her great force and within the stones that lay on the ground one became a man and immediately turned into stone again. Orishaoko carefully put it away in one of her pockets.
At the end of his work, he went to Olofin's house to tell him the story of the amazing find he had made in the field. Olofin upon hearing her story was filled with joy and very moved, he told her: "Give me that stone that you have found, because it is an Odu Ara, that is my own son Shango, whom I have been looking for so much."
In this way Olofin blessed Orisha Oko, granting her the grace that she had promised and said: «From today, you will be the King of the earth forever and Shango's closest friend, for that reason, you will always paint a tile white and red to decorate your house ».
What are Orishaoko's children like?
The children of Orichaoko are characterized by being very calm, calm, patient, persevering, practical, careful, hardworking, very responsible, thrifty, and they pay great worship and respect to history, and ancestors. Normally they are not friends of parties or promiscuity, they also have a very particular respect for life and their peers.
When poorly aspected, they can become selfish, stubborn, angry, overly traditional, slow, delayed, resentful, jealous, possessive, and materialistic.
How is Orisha Oko consecrated or received in Santeria?
All initiates can receive the foundation of this saint, both aleyos (not consecrated) and Olorishas. In Santeria normally, a ceremony is performed that lasts three days. During the first day the consecration corresponding to the foundation is carried out, accompanied by a slaughter where the land is fed with all the usual waxes and ingredients (fruits, grains, beef, pork, fish, eggs, etc. they immolate goat, chicken, pigeon, guinea, among others). In addition to this, he is fed ram and roosters to the orisha yemaya who will be in charge of transmitting Orisha Oko's message through her diloggun (snail) during the Ita.
The second day is left to rest. On the third day, the "Ita Imale" ceremony takes place through which the deity will transmit his recommendations for the life of the initiate.
In the case of the children of Orisha Oko, that is, when it comes to their guardian angel, it is not received as a tutelary Orisha, or it is not consecrated directly. Their children are made Kariosha Yemayá with Orun for Orisha Oko, taking into account for their ceremonial the importance of the respective previous ceremonies.
How to attend Orisha Oko? Adimu or Offerings
In Santeria, Orichaoko can be feted with all the fruits harvested from the land, all kinds of dried meats, yams, beans and slugs. Corojo oil, smoked fish, corn, honey and brandy are offered.
The animals that are immolated are: goat, rooster, dove, and guineas, which after being sacrificed are buried or thrown on the roofs.
Orishaoko Herbs
Bejucos: red, sweet potato, milk, partridge, and guarana. Bibijagua or bell, jiba, yam, pilgrim, custard apple and peony.
Orisha Oko in the Catholic religion (Syncretism)
Orisha Oko in the Catholic religion is syncretized with San Isidro Labrador who was a Mozarabic farmer who served in the service of Spanish landowners. He is the patron saint of farmers. In his cult, his body was used in processions of the XNUMXth century to pray for rain in times of drought.
The iconography of this saint is very interesting and there is no doubt that his symbols coincide enormously with those used by Afro-Cubans to identify Orishaoko. Although San Isidro has been painted by many artists, the allegorical images of this Saint always show him dressed in a peasant costume, carrying a hoe in his right hand or other agricultural tools such as: shovels, hoes, sickle, goads, flail , and plow. We can also observe it accompanied by oxen as Orishaoko does.
The reasons why this syncretism was generated are obvious, both San Isidro and Orisha Oko are symbols of the simple life of the peasants, of hard work and effort, as well as contact with nature.
What is asked of Orishaoko?
By representing prosperity you can make countless requests about it. Influence on fertility is attributed to him, therefore sterile women resort to his help. It is an Orisha related to requests for health and to avoid premature death. He is asked for abundance and stability, so that the work will be fruitful. It is asked to help send rain in times of drought or to stop it in times of strong weather conditions. It is also timely in conflict situations where mediation and dispute resolution are required. Fundamentally it is an Orisha that is invoked and received to attract stability both at the level of health and at the level of productivity.
Orishaoko's Prayer
A ó jiyán lónìì, iyan ao jiyán lónìì, iyan iyan tú funfun luélé, Iyan iyan to bìlewow lorun, iyan ao jiyán lónìì, segbèdè a se, iyan or. TOse.
Traducción:
We will eat beaten yam today, beaten yam, we will eat beaten yam today, beaten yam, beaten white yam, beaten yams, beaten yams have delicious pulp, we will eat beaten yam today, there will be much rejoicing, and prosperity will come today. Asé.
Song to Orisha Oko
Akuon: Oricha Oko oggunfeyewueye itani mowuimo oggun mariwuo.
Chorus: Oricha Oko oggunfeyewueye itani mowuimo oggun mariwuo.
Akuon: Oricha Oko afefe irawuo itani mowuimo oggun mariwuo.
Chorus: Oricha Oko oggunfeyewueye itani mowuimo oggun mariwuo.
Akuon: Oricha Oko afefe iku itani mowuimo oggun mariwuo.
Chorus: Oricha Oko oggunfeyewueye itani mowuimo oggun mariwuo.
Akuon: yombale misirereo yombale misirere oricha oko, yombale misirere cocco hoop.
Chorus: yombale misirereo yombale misirere oricha oko, yombale misirere cocco hoop.
Akuon: yombale misirere cocco hoop.
Chorus: yombale misirere cocco hoop.
Akuon: Omo odara dei omo odara die, omo odara dei omo odara die Olodumare dei, omo odara Oricha Oko.
Chorus: Omo odara dei omo odara die, omo odara dei omo odara die Olodumare dei, omo odara Oricha Oko.
Akuon: Olodumare dei.
Chorus: omodara Oricha Oko.
Akuon: Olodumare dei.
Chorus: omodara Oricha Oko.
Akuon: baba model lo.
Chorus: are it.
Akuon: model.
Chorus: are it.
Akuon: Biaro mode.
Chorus: biara oko mode amala, biara oni Shango ota kun mota, biara oko modeio areio.
Akuon: model.
Chorus: areio.
Akuon: model.
Chorus: areio.
Works (Ebbo) with Orisha Oko
Work with Orisha oko for love:
It is made into powder with the dried cress grass and lodestone, it is left at the foot of Orisha Oko with two candles giving her an account of what she wants to achieve with that work and then that is smeared on the hand to caress.
Ebbo with Orishaoko for health:
You look for a chicken and with it you clean the sick person all over the body. Then outside the house in front of the Orisa he realizes and kills himself with 3 blows to the ground, hangs himself in the window near the patient and is left there until he becomes fetid. Then the saint is given coconut again and wonders if he is buried or if he is given a way and where he is going.
Work with Orisha oko to defeat the enemy:
2 chicken eggs are taken, the white is removed, toasted palm kernel, red precipitate, saraguey (toasted) root of Guinea pepper and graveyard ground are added to them, and the name of the enemies is sealed with candle sperm. . The saint is told of the work and of the war that he wants to win and is asked how many days he is going to stay there. After that, one of the eggs is buried and the other is thrown on the roof of the enemy's house.
Orisha oko phrases
Oricha Oko says: "As long as the effort is noble, the harvest will always be blessed by the Orishas."
Orishaoko says: "We are passing through this land, we are from the land and we will return to it."
Learn more about the Orishas