Oyekun Ojuani: Meaning, tips, sayings, patakies and more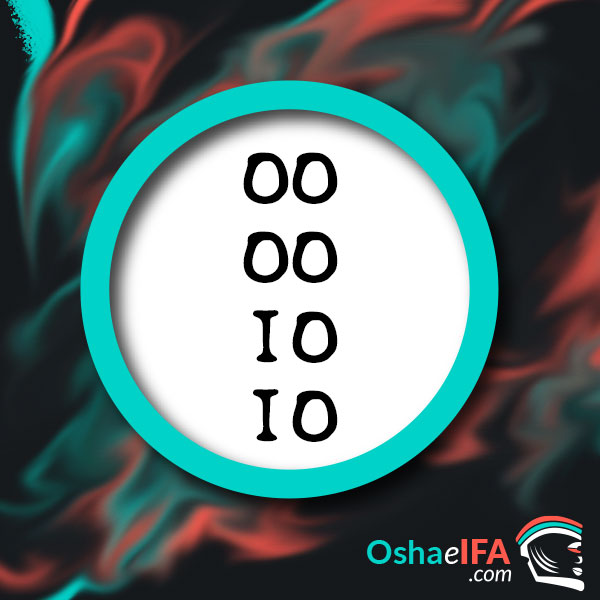 This is Odu # 36 in the genealogy of the Signs of Ifá. In Oyekun Ojuani the old goat and the young goat speak, referring to the fact that when the young man grows up he seeks to confront the oldest. You have to have respect and consideration with your elders, since when you grow up you will try to confront them, seeking to remove the hierarchy that they have.
This sign is the combination between the main Odu Oyeku and Owonrin. Ifá advises this person to sacrifice before a wonderful feat that comes his way, so that his own submission is accepted.
Other names of the Odu Oyekun Ojuani:
Oyekun Wani.
Oyekun Owonrin.
In the odu Oyekun Ojuani is born:
In Oyekun Ojuani: It was where Eshu ate goat (ounko) and rooster (akuko) for the first time.
Egun must be drummed.
Orúnmila made Ebó in the Plaza to all the people of IFE.
It was Obatalá's suffering because Awó Fare did not attend to Eshu.
Elegua wants something.
You have a longing to have children.
The paternity of the child is in doubt.
By leaving the Saints everything is lost.
Your best friend is your strongest enemy.
The old goat and the new goat speak.
Sayings of Oyekun OJuani:
He who makes me dirty cannot clean me.
When the new goat grows up, it will face the old one.
Sometimes the Sickness is called a default.
Your best friend is your worst enemy.
The head saves and the head loses.
---
It may interest you: Ifa Ojuani Yekun sign
---
Meaning of the sign of Ifa Oyekun OJuani:
When It Comes I Will Go: The end of the cycle leads to preparation for unexpected change.
This Odu speaks of resolving family disputes, before they become disturbing.
When Oyekun Ojuani comes Osobo it is said: The premature termination of the cycles leads to chaos.
This Odu speaks of ancient problems that are potentially capable of causing suicidal tendencies.
In this Odu, it was where Eshu ate goat and rooster for the first time. If this Odu comes out to a person, they are instructed to refresh their Eshu with Omiero and they will be fed a goat and rooster within 7 days.
A piece of leather from the goat is also used and taken and an Inshé-Osanyin is assembled with a stone and other ingredients, for peace of mind.
If this Odu comes out to an initiate, he must offer his Eshu a goat and a rooster every year, so that he can be great in life. As you must also have a goat leather where your Ifá is. This he must do so that Eshu does not feel abandoned.
Here was the great suffering of Obatalá because on Earth Ayoré Lekún, Awó Faré, unconcerned about everything that happened there, did not take care of his Eshu either.
Here the person, if he does not have Eshu, has to receive it on the run. You should also receive Ikofafun if you are a woman and if you are a man, do Ifa fast.
Here the person has only one desire in life, which is to have children. So that does not cause your
death, must do Ebo.
For this Ifá, there is a situation with Shango, because he wants to enter his house. See if the situation is that Santo has to do or is it a situation with a Seven Ray garment or with an Egun Oní Shango. You must resolve this situation quickly or else that will be the cause of your destruction or delay in everything.
By the sign of Ifá Oyekun Ojuani, the Paternity of the child is doubted, because physically it does not resemble the father but, nevertheless, it resembles the mother too much. It is an unfounded doubt.
Due to this situation, the father leaves the family and, after the years, life makes him return to it and that is when he is not well received.
Here the person should not abandon the Saints, so that he does not lose everything. You have to be careful with your friends because among them is your strongest enemy.
The Awó of this Odu, before becoming Ebó, makes a prayer of the head (Kobo-Orí) and bathes with jagüey grass.
In the sign of Ifa Oyekun Ojuani, the person has to be careful with a fight where they can hit him with wood until he is killed. Do not trust anyone, not at home or on the street.
Oyekun Ojuani's Recommendations:
Oyekun Ojuani, in divination for a woman in search of a son she is told to make sacrifice, because the son that will be born from her will show his face in fame above anyone on earth, to whom he will be grateful he will remove the communities in the which he will live and in the other world.
This divination for a sick person should be told to serve Ogun with a rooster, kola nut and give Eshu a goat for his improvement.
When this Odu (Oyekun Juani) goes out in divination, the person must be warned that he should never live near a bank or river bank, that wherever he is living he must make sacrifices to Ogun with a rooster and with a goat to Eshu, at least once a year. It is forbidden to eat rabbit, pigeon and melon. He should only be related to a profession that has to do with engineering. Any other profession can lead to failure.
When the Odu Oyekun Ojuani goes out in Igbodun, the person who is initiated must be warned not to eat antelope meat and to contain the enjoyment of any meeting or contribution in development (Esusu) with other people or towns, so that The Witches do not have the opportunity to involve him and lead him to ruin.
In ordinary divination the person must be advised to have his own Ogun. There is a title of nobility in his family which will rule in his favor (a legacy), he must make a sacrifice before obtaining this title or legacy.
Ifá says that the woman who is being divined is committing adultery.
It may interest you: Treaty of the Odu Oyekun Meyi
---
The sign Oyekun Ojuani speaks of:
Here the person must be careful with Jewish garments because the time will come when they will have
to abandon them.
For this Ifá, Egun is given a drum, as well as mass must be given to the parents if they are deceased and ancestors.
This Ifá speaks of a person who maintains loving relationships with a person who is committed. He or the spouse of that person is going to go to your house to make a scandal. Or the woman who looks at herself thinks of going to her husband's lover's house to make a scandal in her.
There will be a great revolution, which will bring losses, lack of respect and even blood and justice.
Do not let anyone sit at your door and woman, much less.
The woman suffers because her spouse does not take care of her in the best way. And he does not take care of the problems of the house or of the children.
Here you have to take good care of Eshu and Ogún. Here the person cannot be bothered after just eating.
Oyekun Ojuani suffers from a stomach, headaches and a swollen leg. Before going to the doctor, do Ebo.
Here, although the spouse loves you very much, be careful with arguments because they can end in problems of justice and even in separation.
Here Azojuano (San Lázaro) is paid what is owed. Do not tell your secrets to anyone so they do not betray you. Here the person wears white. Never try to separate the children from the warmth of the mother or father, because as time passes only you will lose.
In this Odu de Ifá, the first Kiti de Azojuano was constituted, destined to guard the evil children of Azojuano, called Yebu.
Herbs (Ewe) of Oyekun Wani:
Jaguey grass.
Says Ifa odu Oyekun Ojuani
That she has no money and is sitting on top of it. You came here to find out about a man you left, who owes you money, who has enough and now doesn't give you anything.-Give thanks to Shango and Eshu. In your house there is a lot of revolution and the neighbors have to complain to the owner because they say that you are very unruly.
In the house that you live in, there is a woman, whose husband has a mistress on the street, and she is going to create a tragedy that will cause blood to flow.- If her parents are dead, send her to say a mass.- Do not be uncomfortable, Because it could cost you your life.-Walk quickly and don't waste time, you owe a promise to the Saints. -You suffer from stomach pains and you have not paid attention to it.
Do not tell your secrets.-Your child asks you for something different every day, give it to him. he has three businesses in hand that will turn out well for him. -Feed Eshu to eat, so that he is happy with you. -Thank a dog that you have in your house. you have a swollen leg, do Ebo before going to the doctor. You have a saint in the house and in time you will have to establish your Guardian Angel. -Don't think so much or persist in knowing what you are so eager to find out, it doesn't suit you. You have a child in your house who says he is not your son, take care of him or it will weigh you -Don't give your heart to anyone, not to your friends, because no one is legal with you -All the good that you do It will be for your delay, but don't tell anyone. You have two or three reais left over, don't spend it and play the lottery.
Prayer of the Odu Oyekun Ojuani:
OYEKU WANI BADAWA IFA OBA MAYIRE ESHU BADAWA IFA YESTERDAY
LEKUN OBA YERE OBA LEKUN ESHU IFA LAYE BEIFA IKE ASHEGUN OTA LESE
ESHU KUNBATI AWO GBOGBO OUN BAYE OLUWO FARE.
Suyere from Oddun Oyekun Wani:
EBO LASHE SHAFT KARO ANGBE OKA
EBO LASHE. EBO LASHE.
IMO GBA OMO EKUN EBO BASHE
OJUKOKO ANGBE OKA
Eboses of Oyekun Ojuani:
For Shango:
See what situation there is with Shango or with a 7 ray garment or a dead person that the person has forgotten.
Oyekun Ojuani for women:
Receive urgent Ikofafun.
Oyekun Ojuani for a man:
Make Ifá urgent.
Ebó: A ram, six small drums, six chickens, many fabrics, six gourds, corn tamale (ekó),
hutía and smoked fish, goat hair, house land, machete, a lot of money.
---
It may interest you: Treatise of the sign of Ifa Oshe Nilogbe
---
Patakie of the sign Oyekun Ojuani:
The way of Shango.
On this path, Shango traveled to a land, which was unknown to him, in search of a person. Upon reaching that land, he found a house in which he began to play because he wanted to enter, since the person he was looking for was there. No matter how much he touched, they did not open, because it was hermetically closed.
Shango was filled with anger and smashed the roof of the house with lightning and entered through it.
Note: The person to whom this Odu comes out, must see what the Orisha ShangoWell, it wants to get into your head.
The suffering of Obatala.
PRAYER: BADAWA IFA OBA MAYIRE ESHU BADAWA IFA OYERE LEKUN OBA YERE OBA LEKUN ESHU IFA LAYE BEIFA IRE ASHEGUN OTA LESE ESHU OUN BATI AYE AUN BATI AWO GBOGBO AUN LAYE OLUO FARE.
EBO: 1 goat, a rooster, flag, 3 chickens, hutía and smoked fish, toasted corn, land from the house, a lot of cloth, cloth of his body, a lot of money.
History.
On this way, Obatala was suffering because in the Land of Ayere Lokun, Awó Faré lived, who did not take care of Eshu or what happened there, so Eshu had abandoned her and gone to another land, where Badawa Ifa lived, the one who He always took care of Eshu and fed him whatever he wanted, since since Eshu arrived there he had plenty of everything. One day, Obatalá went out on the road, carrying his Agogo, and was singing:
"BABA IFA NANIRE OSHA BI OSHA IFA NANIRE."
Orúnmila, who heard him, came out and hugged Obatalá and asked him: "Baba, what's wrong?" To which he replied: -I am like this because of the work that Awó Faré is going through and the misery that exists in his land.
Orúnmila was carrying 1 goat, 1 rooster, jutía and smoked fish, toasted corn, and he told Obatalá:
-You. he will see how we are going to triumph, because Eshu has never eaten a goat or rooster, and with this he will defeat Omo Badawa Ifá.
They arrived where Awó Faré was and he was very happy despite his sadness. They said to him: -From today, your land will be great and it will lack nothing; but in this land there can never be a lack of a goat or a rooster. Awó Faré gave Moforibale to Orúnmila, and they left for the land of Badawa Ifá. Each
He was wearing an Agogo and they were singing:
"AWO FARE NIYERE UMBO BADAWA EBOSHIRE ESHU BADAWA"
Eshu, who heard this song, gave Moforibale to Orúnmila and told him: What a tastier smell you bring, to which he replied: -This is a food that you have never eaten. Eshu asked: Well, where is that tasty food? Obatalá replied: In the land that you abandoned. Elegua replied immediately: -Well, I'm going with you there.
They went on their way, but Orúnmila was repressing Eshu, while Eshu was passing his hand to Orúnmila, smelling him. Eshu was very happy. When they arrived at the Land of Awó Faré, he gave the goat and a rooster to Eshu, who after having eaten it told him: you will feed what you have given me today. To. Were going. Eshu.
Note: After 7 days, you have to give 1 goat and 7 rooster to Eshu. You always have a piece of goat leather. Everything that Eshu eats will be given and divided into different parts. You must refresh Eshu with: XNUMX herbs from him and pray your head with coconut, husk and cocoa butter.
Learn: The 256 Oddun of Ifa
Oyekun Ojuani Ifa Traditional
ÒYÈKÚ ÒWÓNRÍN
Òyè wónrin me
Òyè wonrin je
Hey soni pàkàpàkà gbé mì
A day fún Òni wàkàwàkà
Èyí ti n be níbú Ìrágbìjí
ibuu babaa re
Àwon òtá bá n yí i po
Wón làwon or gba ibú lówó è
Wón ní kí Òni ó rbo
Wón ní kò séni ti or gba ibúu baba è lówó è
Bó bá ti rbo
Wón ní bí opón bá téjú
Gìrìpá òrúko lebo è
Bí ó bá tejú
Àkùko adìe méta lebo
Kó sì ru òpòlopò owó pèlú è
Òni rubo
Gbogbo nnkan ti ón làwon or gbá lówó è
Kò séni ó le gbodò lówó Òni mó
Yóó nawó nasè lódòo baba rè ni
Ayé ye Oni
N ní wá n jó ní wá n yò
Ní n yin àwon Babaláwo
Àwon Babaláwo n yin Ifá
Ó ní béè làwon Babaláwo tòún wí
Òyè wonrin je
Hey soni pàkàpàkà gbé mì
A day fún Òni wàkàwàkà
Èyí ti n be níbú Ìrágbìjí
ibuu babaa re
Taa ní or gbodò lówó Òni
Òni wàkàwàkà baba è ló nibú
Taa ní or gbodò lówó Òni.
Ifá in the Odu Oyekun Ojuani advises this person to make the sacrifice. Your sacrifice will prove effective. The rightful possession of your ancestor that exists at this time would not be owned by another. Ifá says that he is a great person.
Òyè wónrin me
Òyè wonrin je
Hey soni pàkàpàkà gbé mì
They made divination for the crocodile
The one who lives in the deep waters of Ìrágbìjí
His father's deep lake
Some elements then conspired
They conspired to take away its deep waters
The Babalawos told the crocodile to offer sacrifice
None, they assured him, will be able to carry away their father's deep waters.
Once he performs the prescribed sacrifice
If the customer can
A male goat is the sacrifice
Else
Three roosters may be the alternative
The person will also have to offer a lot of money
The crocodile made the sacrifice
All the things they thought they could take away
No one could take it off again
He will stretch out his limbs in the waters
Life pleased the Crocodile.
He then danced with joy
He praised his Babaláwos.
Their Babalawos praised Ifá
He said it was exactly as his Babalawos had said
Òyè wónrin me
Òyè wonrin je
Hey soni pàkàpàkà gbé mì
They made divination for the crocodile
The one who lives in the deep waters of Ìrágbìjí
His father's deep lake
Who will seize the waters of the crocodile?
The crocodile, whose father owns the deep waters
Who dares to take away the waters of the crocodile?
You can read: