Ogbe Yono or Ogbe Ogunda: Meaning, tips, sayings, patakies and more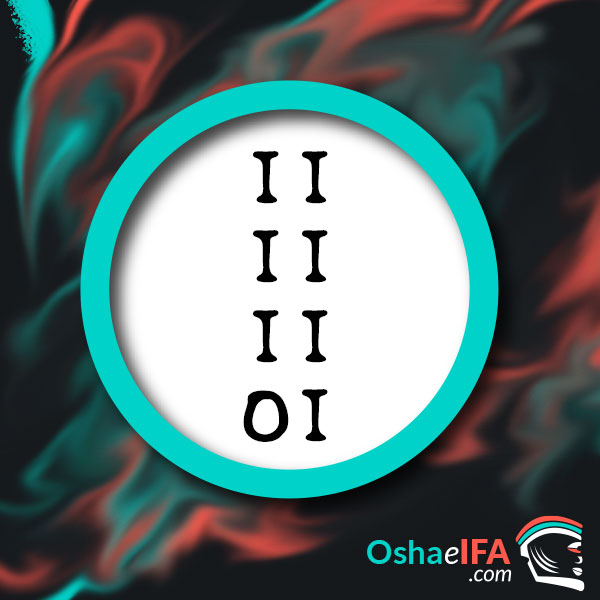 Ogbe Yono or Ogbe Ogunda is the Odu of Ifa where it refers to patience and good character (Iwa Pele). Ifa recommends us to avoid conflict and discussion, always seeking to live in harmony and with a fresh mind. This sign is the combination of Ogbe with Ogunda being the Odu number 24 in the Ifa genealogical order.
This Odu reveals to us that Orunmila has a great ability to avoid acting in a wrong way and teaches us that through calm we can get out of any difficulty.
In the odu Ogbe Yonu (Ogunda) is born:
The Ebbo Shiré.
He sacrifices gelding to Oshún.
The Iñafa.
The hooks from the butcher shop.
The molars.
Ayalá Obatalá builder of heads and receives offerings in sacrifices.
The unification of the world and the union of human beings.
The filling of the teeth.
Damage to the Pancreas.
What is Ogbe Yono talking about?
Of alteration of the Pancreas.
You have to take care and do ebbo to avoid being embarrassed having sex since this sign speaks of sexual weakness.
This Oddun talks about relationship problems since the woman is not attracted to her husband.
Talk about the misappropriation of state resources.
Ogbe Yono talks about avoiding the use of weapons since under pressure or embarrassment he may be tempted to attack anyone which would end in disgrace.
Lack of communication between the couple as well as indisposition on the part of the spouse's family.
Because of this ifa sign, you have to take care of the contagion of a virus, blood pressure and the heart.
Stomach problems resulting from ailments in the mouth.
Of dismantling an Altar and that is why they are backward.
Of separation and estrangement. It is solved with two white roosters (path of the unification of the lands).
Avoid gluttony as this is the Caiman Ifa.
You have to take care of your eyesight, as well as suffering an eye injury.
It speaks that when this Odu comes out at the consecration, the person is advised to pay a debt that he owed in Heaven, if he wishes to prosper on Earth. He must prepare his Eshu shrine with a goat, to avoid any mistakes that you may repeat in your Ifá ceremony.
This Ifa sign indicates:
The catching of the Ekobi Enyobi Abakua square.
That this is where the dead were not buried.
Let him touch his head with the Okpele and the Inkines to guess the people.
That they did Ifá to Asojano and he was called Oluwo Popo.
Settling Osha or becoming a saint for the first time.
Birth of Ogún Shiro Shero.
The use of the dam.
Prohibitions:
This ifa sign prohibits children of Ogbe Ogunda from eating dog, ram, and pigeon meat during their lifetime. If they are able to ban the three animals, no difficulty will be against them.
The intake of Alcoholic beverages is prohibited.
For no reason should you be disrespectful and even less hit any woman.
Recommendations of the Ogbe Ogunda sign:
Take care of your teeth as mouth rot hurts your stomach.
Consecrate Brosia.
The babalawos when they look at this oddun of ifa "Ogbe Yona" do not sit at the table to eat.
By this sign you must do to avoid problems of justice when moving to another place.
You go from duel to slave, from boss to employee.
Take care of your Ile and avoid fighting with your partner and thus prevent your luck from leaving.
You have to receive eshu and entertain him.
Avoid being greedy and greedy.
When this Odu "Ogbe Ogunda" comes out in Igbodun's room, the person is advised to pay a debt that he owed in Heaven, if he wishes to prosper on Earth. He must prepare his Eshu shrine with a goat, to avoid any mistakes that he may repeat in his Ifá ceremony.
---
You may also like: Oddun from Ifa Ogunda Biode
---
Ogbe Yono Sayings: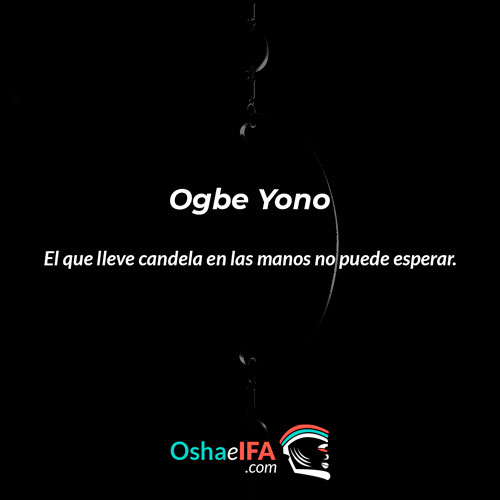 Open your mouth, talk dirty, calm your hunger.
The sheep are still wearing their wool from last year.
The best fortune; The having, the power and the knowledge.
The gandido enlarges his belly and shrinks his head.
Goat that breaks a drum with its hide pays.
As long as the crocodiles live in the river, so Ogbe Yono will be eternal.
The sheep that is associated with a dog will eat excrement.
He who carries a candle in his hands cannot wait.
He who commits adultery with a man's wife will always be his enemy.
We find money in the world, and we leave it in the world.
Man makes a young man an old man, a full belly makes a young man old.
The eye does not kill the bird.
When the jíbaro goat is alive, its body cannot be used for a drum, but when it dies, no one hesitates to use its skin as a drum.
I travel all over the world, this is what Olofin said to Oduduwa.
---
You may also like: Odun of Ifa Baba Ejiogbe
---
Says Ifa oddun Ogbe Yono
Be careful with pride, it can cost you your life, and you may have to be a slave to your slaves. Do not fight with your wife, even if she does something you do not like.
Ogbe Yona: «I go through the world », the soothsayer of Egba" Y "I walk and walk and walk along the way and reach remote Ijebu with my broad sword»(They were the ones who guessed Ifá for them) those who cried every day because they had no money. They were told they would have money. The sacrifice was four pigeons, a lot of husk and money. They made the sacrifice and began to have money.
Ifá says that the person will have a lot of money. The money is coming but you must make a sacrifice.
You can die before her. be careful not to get the blood to your head.
You offended your wife and her enemies are making fun of you because they see you today defeated or fallen.
You have to stumble in the street, where they have to laugh at you, ignore it and go on your way, you are far behind. Do not use weapons on top (pointed knife), money comes along the way, do not throw the wallets at the door of your house.
Be careful with a mess of justice, on your door they have thrown something, do not fool the babalawo. do not go out until after seven o'clock at night.
When you go to travel, look at yourself with Orúnmila and do the works that you mark so that you can reach your destination well.
Ifa says in Ogbe yono that he suffers from a stomach because his mouth is sick and the microbes attack his digestion.
Advice from the Sign of Ifa Ogbe Yono (8-3):
Ifá says that we should not fight. A man must make sacrifice so that he is not injured during the fight for his relatives. Someone's penis is marking their days, and they are in trouble because they have no children. You must sacrifice to a deity so that it will give you children. The sacrifice for the man is a big goat and a rooster and a goat and money for the woman.
When this Odu comes in divination for a person who is at the height of his prosperity, he is told that death, which traditionally attacks his family members, is stalking him. You must sacrifice to escape it and you must avoid engaging in disputes that have to do with the distribution of inheritance.
In Ogbe Ogunda divination, the person is told to avoid the danger of having a changeable temperament, not to underestimate any gifts sent to him by his relatives. He must make sacrifice so as not to lose his fortune because of anger, anger and disdain for another person.
Meaning of Oddun Ogbe Yono:
When we say Oluogodom, it means Lord of Yams and refers to Boromun, the Goddess of Yams. Ekunlempe means the Leopard of Empe, referring to Azojuano, the God of Smallpox, whose village was called Empe.
When Ogbe Ogunda (8-3) goes to consult Ifa for a person anxious to find out what profession he should adopt in his life, he must tell him that his prosperity is in agriculture or farming.
Akanju wa wo iko niyu Igbo
Akpo she she woro oju nfln
Adifafun Ajala Omo Aroko that eke laa
It means:
The person who is looking for money hurries to the forest, but the person who is patiently looking for money goes into commerce.
---
Prayer of the Odu Ogbe Yono Ifa:
Ogbe Yono Aya Adé mowaye ereni laye adifafun OdUduwa wayeni efa ewaye Oduduwa Ikú seguere, Arun seguere, ofo seguere, Eyó seguere, Ogu seguere, Onilú seguere, Ashelú seguere ona seguere.
Ogbe Yono's Ebbo 8-3:
Ebbo to improve the health of a person who has this Oddun
This ebbo is carried out by 8 babalawos, who will sacrifice 2 pigeons (eyele) each, before the sacrifice all the awoses present the animals on the head of the person concerned, then they proceed to clean the person and sacrifice the pigeons to Obatala.
Ogbe Ogunda's work to clean his teeth
Take a toothpick from the guava tree, it must be sharp, and paint the following oddun on a plate:
Oshe Otura, Ogbe Yono, Otura Oshe there the stick is placed and given to elewa to ask for it, singing the following:
Afafa Bokino Fatawao Made.
Then the person with this sign will use this stick to clean their teeth.
---
Secrets of this sign:
When Ogbe Yono (ogunda) leaves in Itá:
One of the Dilogunes (snail) of Oshún will be taken and omi from its container, it is made Ori and it will be passed through the navel to all those present praying the oddun Ogbe Ogunda.
When this Oddun appears in Igbodun, the person must immediately serve Otalerun Imale (Osagbaye in Benin) outside the house, give a father ram to his Ifa and a he-goat to ESHU to avoid contracting an infectious disease.
Inshé Osanyin (Camino de Azojuano).
Head of a banana from Azojuano (he wonders how many), an aguoná, quail, corojos (he wonders how many), Tierra de Bibijagüera, Iyefá from Ogbe-Yono prayed, and he wonders how many strong sticks and which ones they are.
Herbs:
Jobo.
Olobotuye.
Atiponla.
Siguaraya.
---
Mallet or necklace of Ogbe Yono (Iñafa).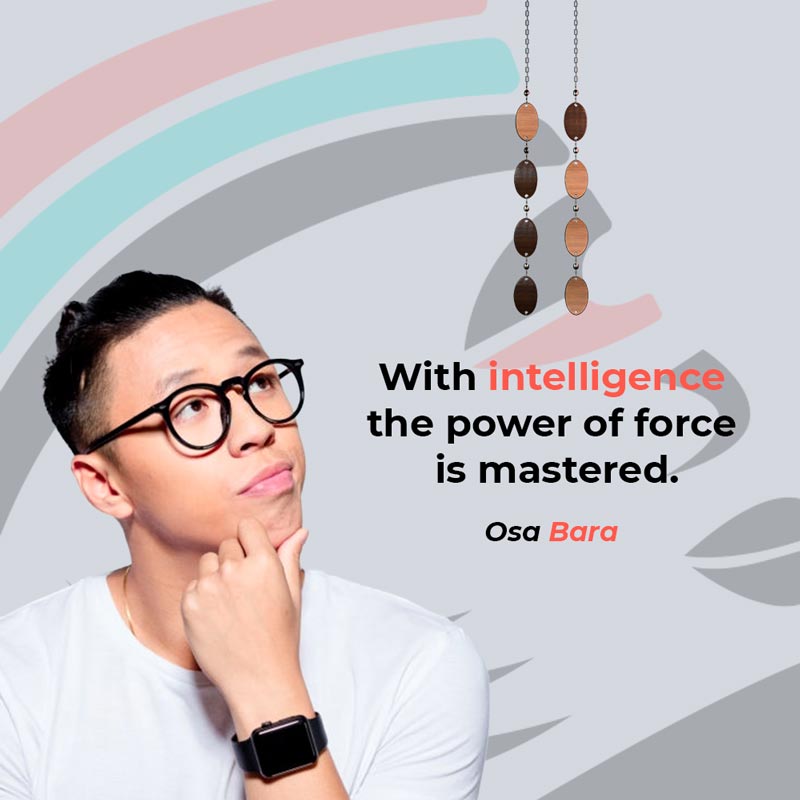 The Iñafa or Ogbe Yono deck has 16 colors, these represent the 16 Orishas and it is called Odo Oshanale Onu Ifa. This necklace is divided into 16 sections that are separated by small pieces of wood on which the following Ifa oddun are written: Otura Niko, Irete Yero, Ogunda Biode, Ogunda Fun.
The colors of the Orishas, ​​their representation and meaning is as follows:
Elegba: combination of red, white and black
Oggun: black and green.
Oshosi: amber and peacock blue.
Orishaoko: pink, light blue.
Inle blue: peacock and jet.
Oluo popo: matipó, black and striped of various kinds
Given: two red and two white.
Shango: red and white.
Aggayu: matipó, water and yellow.
Obatala: white, paths can be combined.
Yewa: wine red, pink and coral.
Oba: matipó, oshu amber and coral.
Oshun: amber, green and coral.
Oya: striped and matipo.
Yemaya: blue and water, combination of paths.
Orunmila: green and yellow.
At the end of each section, pray the same as when placing the pieces of eggun wood.
This necklace (mallet) is fed a guinea and a dove.
The awo ogbe yono when he receives obba, he makes the ebbo after the Ita, takes the iñafa and gives him Blood of eyele with Eggun, and seven days later he gives a Rooster to his Iñafa on the Ifa board in the middle of the courtyard and sings:
Iñafa upon bebewao akuko awo boboniboshe
Iku alawao boboniboshe
aron alawao boboniboshe
Eyo alawao boboniboshe
Ofo alawao boboniboshe
Ogu alawao boboniboshe
ina alawao boboniboshe
Etc. Alawao boboniboshe.
The akuko (Rooster) is carried loaded for the river and there it is thrown.
---
You can read: Oddun of Ifa and its meaning
---
Patakie of the sign of Ifa Ogbe Yono:
He guessed for the Moon.
The Moon, the Sun and the stars are the three sons of the divinity of Light. The Sun shines brightly, from sunrise to sunset. The stars shine beautifully at night. For what reason does the Moon show freshness and freshness and decadence?
amaaka ukeregbe sherun
Bodo ukeregbe Sherun
Gbodo Sherun manka manka
Those were the Awoses who guessed for the Moon, advising her to make a sacrifice so that her luck wouldn't waver in a zigzag. He was advised to serve Eshu with a he-goat, rooster, Ekó, bread. After the divination, she thought that it would be superfluous to make sacrifice, since she was endowed with everything anyone could wish for: charm, tranquility, popularity and fame.
Not long after, it appeared on the horizon and everyone rejoiced at its beauty and splendor. It took 28 days to develop to full size.
Eshu got up and went to ask who had been told to make the sacrifice, but refused to do so, and his followers replied that the Moon did not perform the sacrifice. Then Eshu began to blow on it and shrink it, until she became so pale and anemic that no one else bothered to look at her.
Eventually, it paled and became insignificant. That is the reason why after fully blossoming, the Moon begins to deteriorate because of the sacrifice it refused to make at the beginning of time.
When this Odu Ogbe Yono comes out in divination for a newborn child, parents should be advised to make sacrifice to avoid risk of blood disease or blood deficiency during their lifetime.
If it manifests for an adult, you are advised to sacrifice in order to avoid anemia or leukemia.
Where the goat was dismounted
On his way to the land of Dahomey, Omolú took a long time to arrive, he crossed the wild road, then in the town of Shaki he met an Ayaba from that city called Ottanogoso, which had many large and bearded goats that served as horses in those places and when she saw him so tired, she offered Ogbe-Yono, who was Omolú's guide, a goat to continue the journey and gave him a badge so that wherever she went, her servants would offer her presents and a fresh goat.
These accounts of his ileke in the ja and how beautiful stones of his kingdom that identified him as Ayaba de Shaki, made up the insignia that he gave him.
The journey from Shaki to saya delayed five days, five posts passed and in each one of them, when displaying the insignia, he received from the Ottanogoso servants, large gifts of fruits and snails with Ogbe Yono, since then and until his coronation in Dahomey, each day his fame and power of omolú was greater, that later was titled Azojuano, for this reason that the secret of Ogbe Yono is to give five goats to Oshún to be great.
For this reason, the Azojuano vodeunsi ride the goat in their ceremony in memory of the horse that he made from Shaki to Saye and the Awó gives him the goat ridden by the vodeunsi giving five laps around Yardua before mounting it in memory of the five days that Ogbe Yono and Azojuano surrendered, as a guide and the other as a rider from Shaki to Saye.
Ogbe Yono reveals the great perseverance that Orúnmila possesses.
It was ogbe suru, the nickname of ogbe yono on Earth, the one who revealed Orúnmila's inexhaustible patience. Orúnmila stated that although he seems weak and puny, when he decides to move he can be fast as lightning. When offended, it takes him three years to react, thereby allowing the offender enough time to repent and seek rapprochement.
Even when he decides to take the offense, his reaction is as slow as the movement of the snail. Although endowed with 100 pairs of feet, it moves slowly. And Orúnmila continues saying; "When I move and my movement is obstructed by a killer whale on the road, I roll about a hundred feet and wait for the foliage of the trees to mature and fall to the ground, to form a bridge that facilitates my movement over the rock. On the other hand, if my movement is obstructed by a fallen tree, I wait for the tree to spoil before continuing my movement.
It has to be truly a horrible anger that can survive the time it takes for a fallen tree to corrode and decay, or for falling foliage to pile up on rock.
This is how Orúnmila teaches and instructs all his children and supporters to develop a disposition towards inexhaustible patience when someone offends them. Orúnmila's opinion is as follows; Medicines and spells may fail as a remedy, but the efficacy of patience never fails.
---
You may also like: Treaty of Oddun Ogunda The Dough
---
Ogbe Yono Ifa Traditional Nigerian
OGBÈ ÒGUNDÁ
Wón n lu bínní lójúde Ìbínní
Wón n lu pàkùà pàkùà lóde Ìwonràn
Wón n lu jògbòdò-rukú-n-jogbò lójúde Ìjogbo
Àwon Ìbààbà òke Ògún
Wón ti kárà mìn dé
Won n lu gbádágbádá
Wón n lu gbudugbudu lójú omi
A day fún Òrúnmìlà
Ifá n lo rèé fi Somúgàgà sobìnrin
Wón ní kí Òrúnmìlà ó rbo
Ngbà ti won or móo kebo fun un
Won ni eku nií saya eku
Kí Òrúnmìlà or fi eku rubo
Eye nií saya eye
Kí Òrúnmìlà or fi eye rubo
Eja nií saya eja
Kí Òrúnmìlà ó fi eja rbo
Òrúnmìlà bá ru eku méjì olúwéré
Ó ru eja méjì abìwè gbàdà
Ó ru eye méjì abèdò lùké lùké
Wón ní kó ra obì lójà
Kó fi bo òkè ìpòrí e
Òrúnmìlà béè
Ngbà or dèèkan
Aha bá dé
aya da
Gbogbo I'll go bá dé
Gbogbo won bá n yò mó o
Ó ní won n lu bínní bínní lójúde Ìbínní
Wón n lu pàkùà pàkùà lóde Ìwonràn
Wón n lu jògbòdò-rukú-n-jogbò lójúde Ìjogbo
Àwon Ìbààbà òke ògún
Wón ti kárà mìn dé
Won n lu gbádágbádá
Wón n lu gbidugbudu lójú omi
A day fún Òrúnmìlà
Ifá n lo rèé fi Somúgàgà sobìnrin
Somúgàgà súré wa
Kóo waá saya Awo
Béku bá jí
Eku nii saya eku
Somúgàgà súré wa
Koo waa saya Awo
Béja bá hee
Eja nií saya eja
Somúgàgà súré wa
Koo waa saya Awo
Béye bá hee
Eye nií saya eye
Somúgàgà súré wa
Koo waa saya Awo
beran bá jí
They were níí saya they were
Somúgàgà súré wa
Koo waa saya Awo
Àtòkèèrè féfééfé
Lewé okó ti waá saya obì lójà
E súré wá e wáà fé wa!
Ifá advises this person to offer the sacrifice for wealth. Fortunes of wealth and women will come to him from abroad. He must buy Kola nut in the market and sacrifice it to Ifá.
Wón n lu bínní lójúde Ìbínní
Wón n lu pàkùà pàkùà lóde Ìwonràn
Wón n lu jògbòdò-rukú-n-jogbò lójúde Ìjogbo
The Ìbààbà tribe of the main river of Ògùn
They have imported another wonderful practice.
They hit gbádágbádá
They hit gbudugbudu on the surface of the water
They made divination for Òrúnmìlà
When he was going to marry Somúgàgà.
They told Òrúnmìlà to perform the sacrifice
When they prepared the sacrificial objects.
They told him that a rat would always be the wife of another rat.
Òrúnmìlà should offer rats as a sacrifice.
A bird would always be the wife of another bird.
Únrúnmìlà should sacrifice birds as a sacrifice
A fish that they said would also be the wife of a fish.
He offered fish as a sacrifice
Òrúnmìlà offered two rats
Sacrificed two fish
He also sacrificed two birds
They told him that he will buy kola nut at the market.
And he will use them to sacrifice his Ifá.
Únrúnmìlà did as instructed
About a time and without warning.
Wealth came to him.
Women came to him.
All good things came to him.
They all were happy for him.
He said Wón n lu bínní lójúde Ìbínní
Wón n lu pàkùà pàkùà lóde Ìwonràn
Wón n lu jògbòdò-rukú-n-jogbò lójúde Ìjogbo
The Ìbààbà tribe of the Upper Ògùn river
They have imported another wonderful practice.
They hit gbádágbádá
They hit gbudugbudu on water surfaces
They made divination for Òrúnmìlà
When he was going to marry Somúgàgà
Somúgàgà introduce yourself here.
You will be the wife of a priest.
When a rat wakes up
A rat would always be the wife of another rat.
Somúgàgà introduce yourself here.
You will be the wife of a priest.
When a fish wakes up.
A fish would be the wife of a fish.
Somúgàgà introduce yourself here.
You will be the wife of a priest.
If a bird wakes up.
A bird would be the wife of a bird.
Somúgàgà introduce yourself here
She will be the wife of a priest.
When an animal wakes up.
An animal would be the wife of another animal.
Somúgàgà introduce yourself here.
You are going to be the wife of a priest.
From far away.
The Okó tree leaf would become the kola nut wife in the market.
Show up here, all the women to marry us.
Verse from Ifa odu Ogbe Ogunda:
Don't let us live quickly, fortune teller from Alara's palace
Don't let us run for wealth, fortune teller from Ajero's palace
When it is necessary to apply maturity
We must apply maturity instead of hatred
When we arrive at a suitable place (when it is necessary to rest)
Let us rest
And think about the future while we're alive
And the events after death.
They made divination for Makanju-Loro (don't live in a hurry)
Who was the last millionaire among his colleagues
But later he became the richest of all.
Ifá says that in whatever situation we find ourselves, we should not lose hope, it has happened to others before. About that we must be strong.
Eshu of the Odu Ogbe Yono
eshu agelo
This Eshu - Elewa is made on stuffed Cayman, its purpose is to take care of Ogbe Yono's house.
This eshuu will live in a jar with: Cemetery land, plowed land, 4 adele, crab cave land, lagoon land, river sand, sea sand, slaughterhouse land, land collected in a prison, a mate and a guacalote, it has a seahorse, heart, eyes and head of a rooster, 3 alligator teeth, erú, obí, kolá, osun, alligator leather, 21 guinea pepper, 21 small Chinese bald stones, 21 otanes small ones from the coast or beach.
Herbs (Ewe):
Prodigious, fine grass, red piglet, chicken foot, male fern, Ceiba root, red mangrove, jagüey, tame handsome, winner, wins war, wins battle, for me, yamao, change voice.
3 jet blacks, 3 corals, 3 amber and pieces of gold and silver are added.
The eyes and mouths are made with snails, a nail or blade with parrot feathers and dead bone. A necklace with Piñón seeds is put on it, a maraca is made of mamey seeds that are filled with alligator bones to touch it.
If you want to learn about the Orishas you can read: